Day 7: Explore Lake Myola from Bomber's Campsite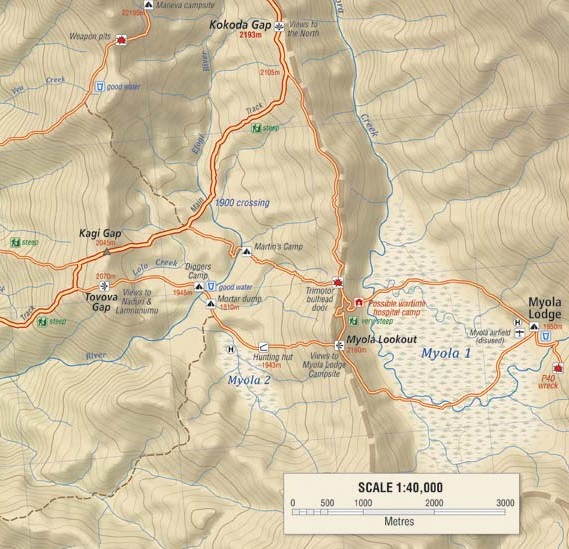 We start the day with real toast, poached eggs and your favourite spreads in addition to our normal carbo-loaded menu.
After breakfast we have a 'leadership briefing session. This involves a discussion on the various theories of leadership and your trek leaders will share some of their experiences. Students with then be tasked to think about a person who has inspired them until now - a parent, a teacher, a coach, a friend, etc. They have have a few hours to think about it while we are trekking across Lake Myola and will be required to tell us about that person and the qualities and values they have that inspires them when we return to camp in the mid-afternoon.
We then set out to explore the mystical volcanic lake-beds of Myola. From before time until war came to the area the local mountain Koiari people regarded this land as tabu because it differs so starkly from the surrounding jungle ranges extending far beyond their horizon. The lakes are nestled high in the Owen Stanley Ranges at 2145 metres which is almost as high as Mt Kosciuszko at 2228 meters.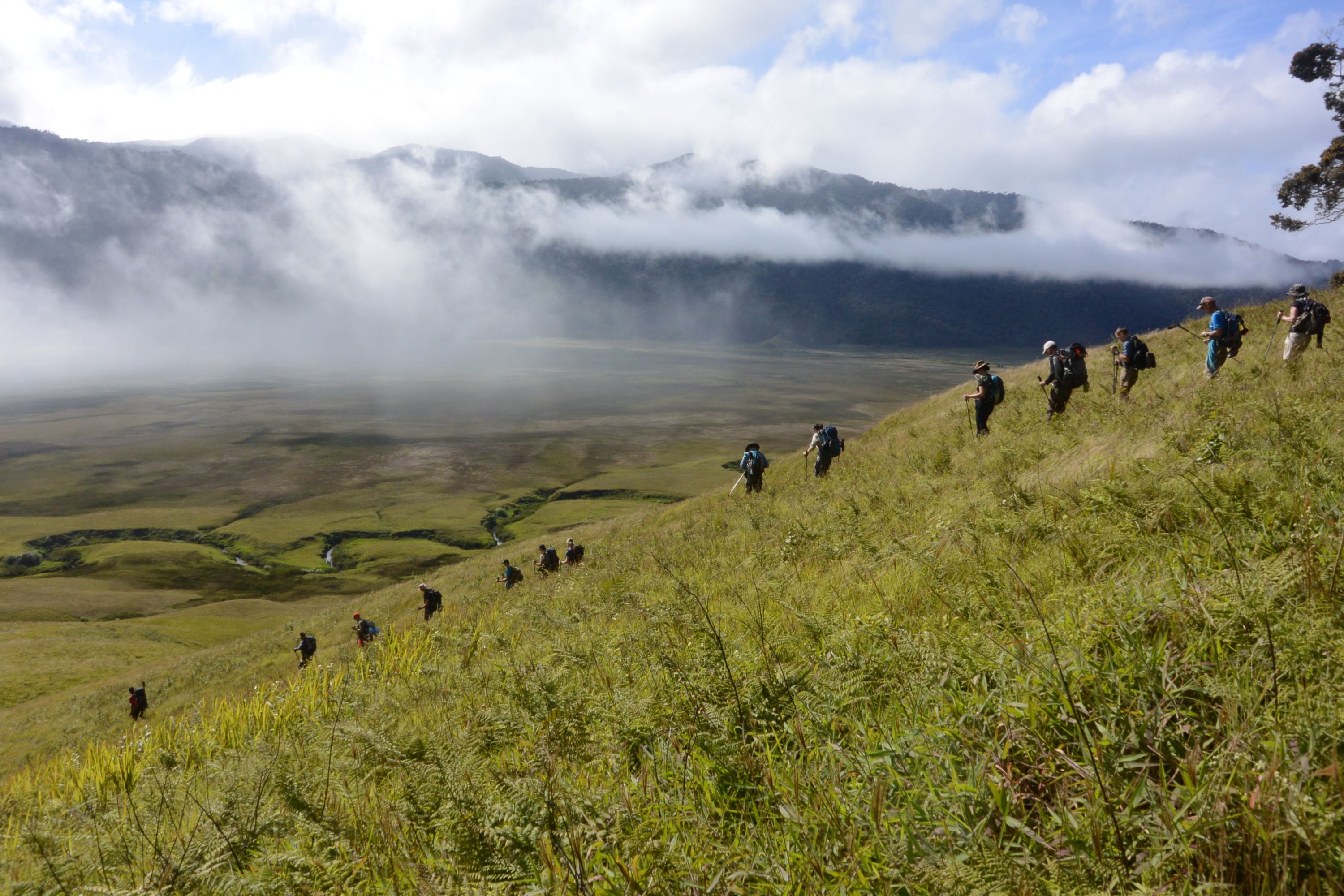 The prairie like grassland is surrounded by some of some of the most enchanting moss forest one will ever experience. The border between the grassland and moss forest is so stark it could have come off a designer landscapers plan.
A crystal clear stream with fresh trout meanders around the lake bed area and flows into the upper reaches of the watershed for the Eora valley to the north. Near freezing temperatures collide with the atmosphere created by clear morning skies to create an ever-changing kaleidoscope of misty cloud formations that rise from the grassland each morning.
The solitude of this magical place was shattered when Lieutenant Bert Kienzle cut his way out of the jungle to discover the area. Kienzle, a plantation owner from Kokoda had enlisted in the Australian New Guinea Administrative Unit (ANGAU) and had previously spotted the lake beds from the air during his frequent flights between Port Moresby and Kokoda. When he was tasked to establish a supply base along the trail he cut his way in from the native mail track east of Mt Bellamy along what is now known as Myola Ridge.
Kienzle named the area Myola after the wife of his commanding officer - an aboriginal term meaning 'break of day'. Nearby, and at a higher altitude, was a second dry lake, which became known as Myola 2.
Your briefing here will focus on the decision of Brigadier Potts to abandon his logistical area at Lake Myola due to the impossibility of defending against an advancing enemy. It was obvious to Potts that the enemy commander had too many options to pin them in location and bypass them with a larger force heading directly to Port Moresby. He then withdrew his battle weary troops south to the crest of the range and further on to a dominating feature south of Efogi which was to become known as Brigade Hill.
We then take a short trek to through the moss forest to the edge of Myola 1. We pass a mortar ammunition dump that was discovered by Charlie Lynn in 2003 and move out onto the kunai grassland. We trek across towards two hunting huts and re-enter the moss forest for a XXX climb to the edge of Myola 2.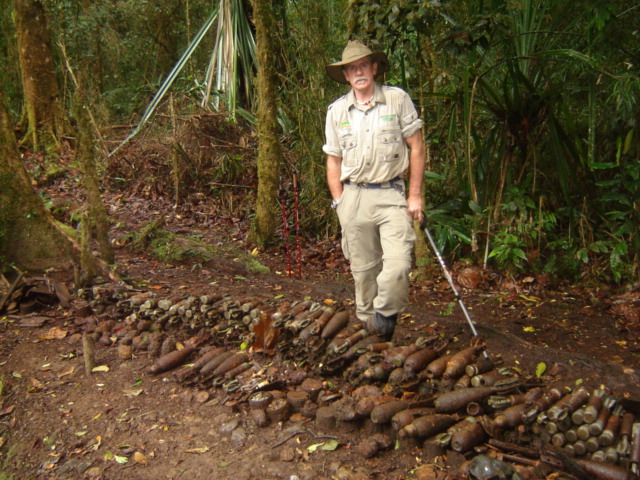 We then follow a hunting track to the North-West crossing the upper reaches of Eora Creek before arriving at the edge of the disused airfield. From here it's a half-hour trek up to the site of the crashed P40E Kittyhawk fighter.
On 22 November 1942 Lieutenant Ralph Wire of the US Army 9th Fighter Squadron flew his P40E Kittyhawk from 3 Mile Drome (Kila) near Port Moresby on a mission to escort transports bound for Dobodura Airfield. During the flight, Wire was forced to leave the mission early due to his engine overheating and had to bail out near Myola.
Wire parachuted to the ground safely and landed unhurt. Over the next two days, he walked to Myola where he met Australians who led him over the Kokoda Trail to Kokoda where he was flown from Kokoda Airfield back to Port Moresby and returned to his squadron.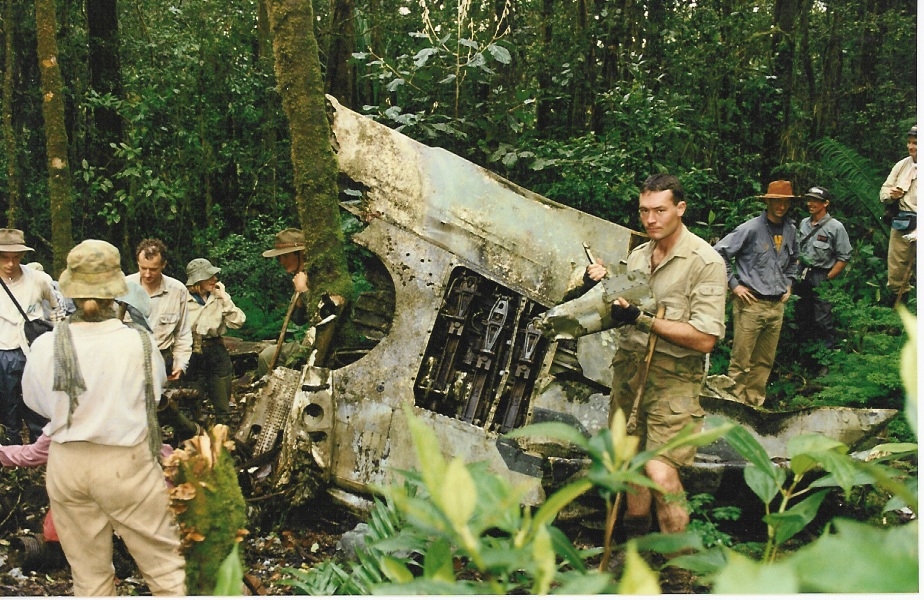 The Curtiss P-40E fighter was a single-seat aircraft powered by a V12 Allison In-line liquid cooled engine. It was armed with six M2 0.50 inch calibre Browning machine guns, mounted in the wings – these are visible on the Lieutenant Wire's crashed P40E Kittyhawk on the northern edge of Myola 2.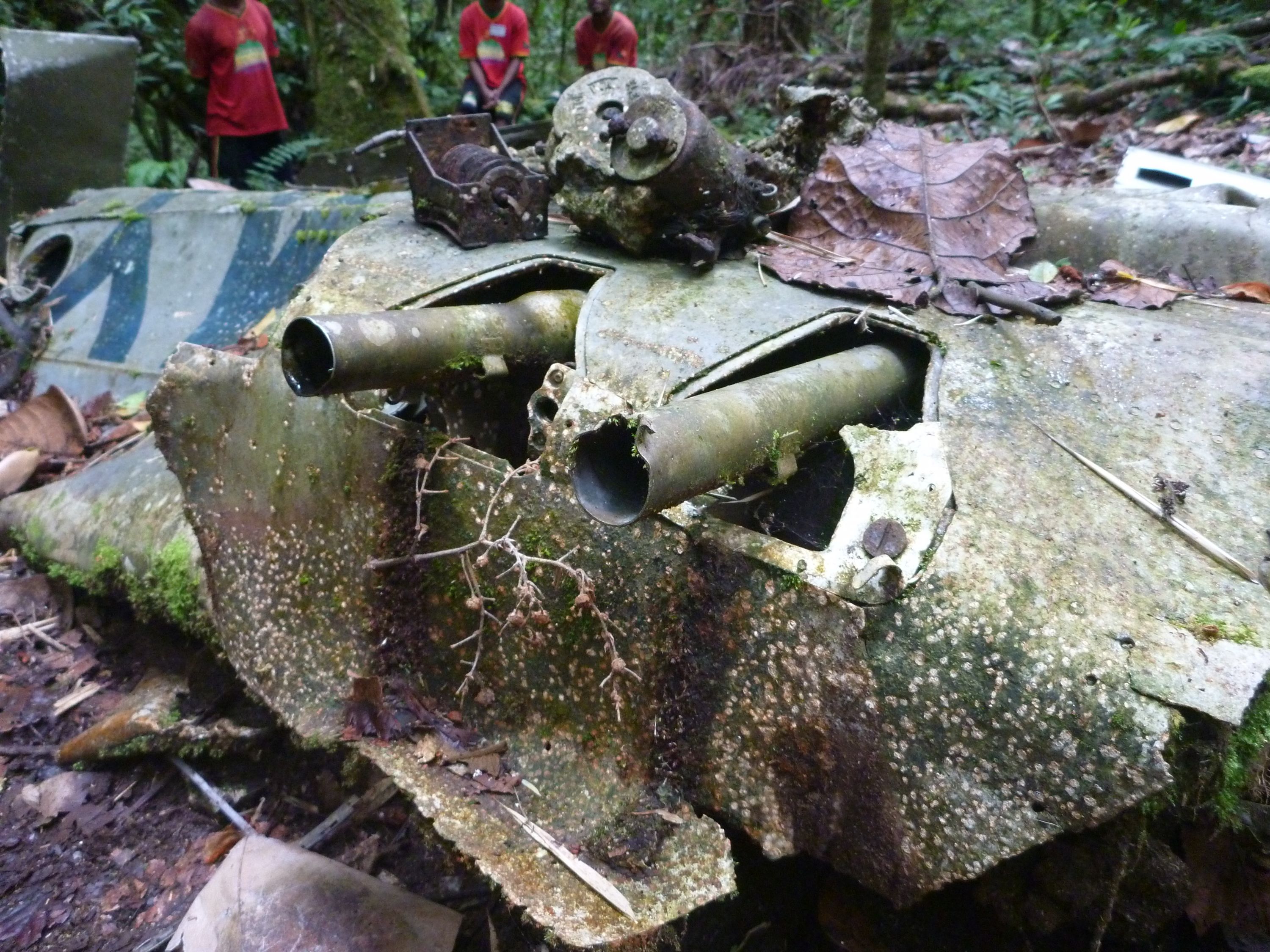 We then retrace out steps to the guesthouse area owned by the people of Naduri before entering one of the most beautiful areas on the trail which takes us to the northern edge of Myola 2. From here we 'walk among ghosts' as we cross the area where the 14th and 2/14th Field Ambulances set up a crude tented hospital area under Major Rupert Magarey. By the end of October 1942 there were 150 stretcher cases and about 300 walking wounded with dozens coming in every day as a result of the fighting at Templeton's Crossing and Eora Creek.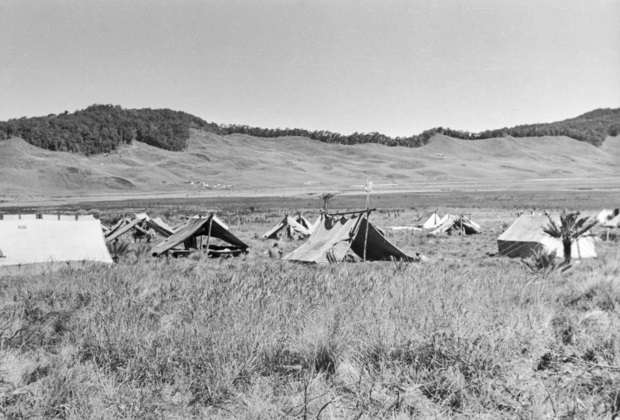 Nearby was the logistic base which was primarily supplied by the famous 'biscuit bomber' – Dakota C47 transport aircraft that pioneered a new form of aerial resupply by parachute and free-drop. The area was abandoned in the face of the rapid Japanese advance in late August 1942 and re-occupied again by the Australians during their advance back across the Track in pursuit of the fleeing Japanese forces in early October 1942.
Doctor's resting in their quarters after an all-night emergency duty
It was hoped that a landing strip could be cut that would allow casualties to be evacuated by plane, but the first light plane did not land until late October. However, there were insufficient light planes and several crashed on landing at Myola. Only about 40 casualties were flown out of the mountains and the rest were left to languish under crude canvas shelters.
One of the aircraft that crashed was a Ford Trimotor which was originally owned by the Earl of Lovelace in East Africa. It was later sold to Guinea Airways in New Guinea in 1935 and operated in civilian service 1942.
The RAAF took control of the two trimotors owned by Guinea Airways and had them converted into air ambulances. They were then used for the evacuation of troops from Lake Myola during the Kokoda campaign.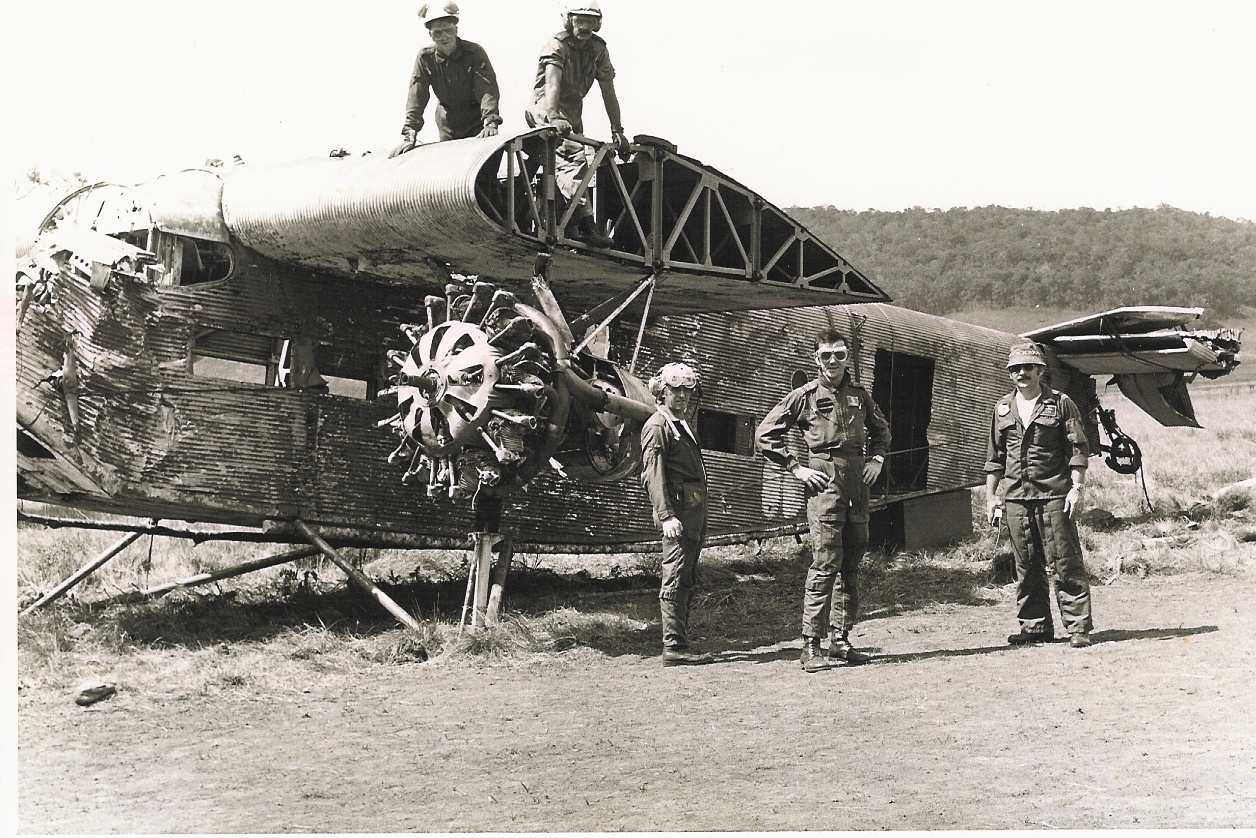 In 1979 Major Charlie Lynn (top right) was tasked to lead a team of riggers to recover the Ford Trimotor that had crashed at Myola 2. The aircraft was recovered to Port Moresby and has been relocated to the PNG National Museum and Art Gallery in Port Moresby.
There was a reluctance to use aircraft to evacuate the hundreds of sick and wounded in the tented hospitals at Myola 2 and they were eventually ordered to get up and walk back to Port Moresby – some had been hospitalised for more than two months by this stage. Field hospitals along the track were tasked to assist them in their agonising ordeal. Troops were sent back in batches. A diary entry by one of the soldiers on 2 November bore witness to the evacuation:
'Two arm-wounded men passed us . . . one had been shot in the elbow and the arteries cut. They had been tied but the exertion of the fast walk had busted the tyings and he was fast bleeding to death – blood everywhere. Tourniquet applied in double quick time and we carried him in. A few anxious moments when he very often blacked out. After about ½ hour we came to his cobber . . . in exactly the same condition . . . We got them to Uberi and they lived but only just.'
Morning tea will be waiting for us at the southern edge of the Myola 2 - we then re-enter the moss forest and return to our base at Bombers campsite for a late lunch. We assemble in mid-afternoon for presentations on leaders who have inspired each individual followed by a general discussion to wrap it all up.
then goodnight!