As it was in 1942 . . .
The booklet on Pidgin English by E.C.N. Helton as used in the Mandated Territory of New Guinea in 1942 was developed to assist our soldiers to understand the local culture and language. The booklet, which is reproduced below, provides a fascinating snapshot of reality in 1942.
Trigger warning:
Some extracts from common phrases in use throughout Australia and our mandated territories in Papua and New Guinea 1942 may offend some born since political correctness was introduced into our culture by the millennials of Generation Snowflake.
PREFACE
With that restless feeling that all soldiers experience after returning from Active Service, after the Great War the author turned his footsteops towards New Guinea in search of new adventure and as the result of twenty odd years experience this book has been compiled.
The search for gold led him to all parts of New Guinea involving a close study of the natives, their customs and their language.
Even after the various skirmishes the Authro has had with them, he has been able to return to the disaffected area and make friends with them. This was mainly through being able to talk to them.
The natives are inclined to treat with scorn a white man who cannot talk to them, their idea being that white men taught them this language and here are white men who cannot speak it.
This book is presented in the hope that it will be the means of saving many valuable lives and lightening the burden of the soldier, in his valiant efforts to regain our country for us.
The Author
Origin of Pidgin English
New Guinea Pidgin English originated in a peculiar way. The Germans who origina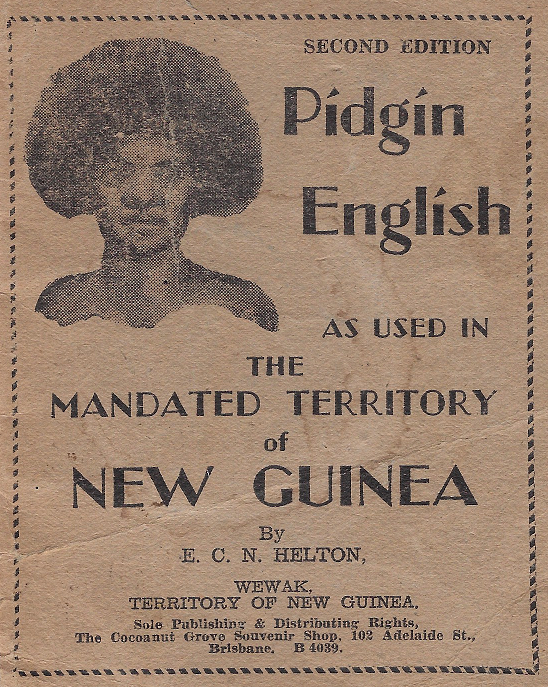 lly occupied New Guinea, endeavoured to teach the natives to speak German as it was impossible to learn the numerous native dialects.
The natives could not master the guttural sounds and the Germans who knew very little English, taught them the various English names of the articles they were using.
As new implements, etc., were used, it was natural, that to explain quickly what was required, to liken it to something that they already knew the name of, for instance, one of the first things the natives knew the name of was an axe (AXIS) and so an adze became an axe to straighten timber (AKES BELONG STRAIGHT IM DEWAI).
To differentiate between the various types of vehicles the name of the animal that drew them was added such as (CARRIAGE HORSE, CARRIAGE DONKEY, CARRIAGE BULL-A-MA-KAU).
Take the last word (BULL-A-MA-KAU). The first cattle to be brought to New Guinea were a bull and a cow and as the Germans in New Guinea always referred to them as such, the name for cattle became BULL-A-MAKAU with the sex added such as MAN or MARY.
When you are stuck for a pidgin word to describe anything, think of what it is used for and use the word SOMETHING for its name and state of its use. For instance, a stud is used to fasten your collar, therefore, a request to a native to BRING IM SOMETHING BELONG PASS IM NECK (collar) would have the effect of a native producing a stud.
The instances given here apply throughout the language and if this is kept in mind, the reader will be able to carry on a conversation with the natives in a very short time.
FORWARD
It is an axciom of war, that an invader who can speak the language of the country invaded has the battle half won.
The natives of New Guinea, who in the main will be found friendly, are very vindictive and will vent their wrath on any white man who rouses their enmity. Therefore, study the "DON'T'S" contained in this book. It is of great importance that the natives should remain friendly.
Remember, the natives speak very quickly, and should the natives conversation not be understood, tell him to speak slowly, by using the following phrase:
| | |
| --- | --- |
| ENGLISH | PIDGIN |
| You are speaking to quickly. I cannot understand you. | Me no ha rim good, you talk easy. |
Having regard to difference of pronunciation of some members of the Forces, the strict phonetic spelling of the Pidgin has not been adhered to, as it is considered more simple to understand in the form presented.
NATIVE SOUNDING OF LETTERS

W

as

V

C

as

K

S

as

T (New Britain)

P

as

B

J

as

Y

P

as

P

VOWEL SIGNS

A

as

A

E

as

I

I

as

E

O

as

O

U

as

OO
PHASES WITH REFERENCE TO TIME

The Present

Now

A little later

Behind

Yesterday

Astidi

Tomorrow

Tomorrow

Day after tomorrow

Arp tomorrow more

Day before tomorrow

Astidi before

A week ago

One pella week e loose pinish

A month ago

One pella moon e loose

Month

Moon

Year

Christmas

Monday

One day

Tuesday

Two day

Wednesday

Three day

Thursday

Four day

Friday

Five day

Saturday

Saturdi

Sunday

Sunday

Holiday

Sunday or time belong lim Limvur
COUNTING

One

One

Two

Two

Three

Three

Four

Four

Five

Five

Six

Six

Sevent

Seven

Eight

Eight

Nine

Nine

Ten

Ten

Eleven

One pella ten one

Twelve

One pella ten two etc up to twenty

Twenty

Two pella ten etc. up to 100

One Hundred

Ten pella ten
TIME OF DAY

Before daylight

No too light yet

Daylight

Too light

Thence clock times to mid-day

Mid-day

Bello

One p.m.

Bello Back

Thence clock times to sun-down

Sun-down

Sun e go down

Midnight

Big night
DON'T DO THESE THINGS
Lean Up Against a Coconut Palm. Look up first. A dry nut might be ready to fall and would seriously injure you if it should hit you.
Interfere with Native Women. They might be found willing parties but will spread the news of the affair so as to around the jealously of their husbands. This would mean death or hindrance to the next white man passing that way.
Interfere With Village Pigs. This would be nearly as bad as interfering with the women.
Drink Stagnant Water. This would lead to an attack of dysentery.
Drink Water from a Native Bamboo Container. The inside of these are filthy and usually contain particles of femented food. Have your own container filled from running water.
Forget to Take Quinine. Take the daily prophylactic dose of five grains and disregard anything you are told to the contrary. Sometimes small quantities are found in the native villages in charge of a Dr. Boy.
Walk with the Slightest Irritation in Your Boot. Stop and take it out.
Forget to Inspect Your Legs and Feet Each Night. The slightest abrasion or cut can develop into a tropical ulcer within twenty-four hours. Pay great attention to this and treat any cut at once.
Try to Walk Too Far in One Day. No advantage is gained and you will find that the carriers will desert you during the night if you do so.
Try to Travel at Night. The progress you would make would not be commensurate with the risk of injury.
Be the First to Walk Across a Stream Near the Coast. The natives see crocodiles very quickly. Have one of the natives walk in front of you.
Try to Swim a Flooded River. Wait. The rivers rise and fall very quickly.
Fraternise too Much With the Natives. They quickly become contemptuous of a person doing this.
Pay More than a Reasonable Price for Anything. The highest price a native receives becomes the minimum. The next man coming that way might not have the wherewithal.
Fail to Pay the Agreed Price. This would cause the natives to refuse to sell to the next person.
Allow the Natives to Get Too Far Ahead When Walking. There might be a catch in it. Keep your carriers all together.
Forget to Count the Number of Natives You Start With. You might have to pay twice as many as necessary and on the other hand, some might have gone ahead to give information.
Tell the Natives Where There Are Other White Men. They love gossip. Let them tell you.
Allow the Natives to Speak in Their Own Language. Make them speak pidgin. They might be arranging something to your disadvantage.
Throw Away Any Article of Accroutment. Unwanted goods can be used for the purchase of food.
Forget That the Natives Can Tell Lies. Try to make sure they are telling the truth before moving on.
Allow the Natives to Come and Greet You With Spears in Hand. They will put them down if told to do so.
Lead the Party an Any Stage. The tracks are narrow and should anything start it will give you a chance to get away.
Allow Your Carriers to Wander About in a Strange Village. They are born thieves and will probably steal something to cause you trouble with the local kanakas.
Lose this Book. It might save your life.
FOODS OBTAINABLE IN LOCAL VILLAGES

Sweet Potato

Kau-Kau

Yams

Yam

Mami (type of yam)

Mami

Tapioca

Tapiok

Taro

Taro

Sago

Sak-sak
FRUITS

Bananas

Banana mau

Bananas (cooking)

Banana

Pineapple

Pineap

Paw Paw

Paw Paw

Lemons

Muli

Oranges (on Mission stations only)

Muli belong Sydney
GAME

Wild pig

Wile pig

Pidgeon

Balus

Gaura pigeon

Guria

Wild fowl

Poul belong bush

Wild fowl eggs

Kio belong poul belong bush

Domestic fowl eggs

Kio

Duck

Parto

Cassowary

Muruk

Domestic fowls are found in all villages
TYPE OF CONVERSATION THAT WOULD BE USED ON ENCOUNTERING A NATIVE IN THE BUSH

English

Pidgin

Native Replies

Interpretation

Good day friend

Good day priend

Yes, good day Masta

Yes, it is a good day

Are there any Japanese in this vicinity?

Man belong Japan e savvy come long arp ere?

Yes, before e come

No got

They have been here

No

Where is your village?

Place belong you e stop where?

Close to

Long Way lik lik

Near here

A fair distance away

Take me to your village

Bring im me long place belong you

Arright you come

No can

You follow me

I won't show you

Where is your rest house

Ouse kiap e stop where?

E stop on top

At the top of the village

Will you give me some food?

You can give im me some pella kai kai?

Behind me sing out im all-a-mary

The females will bring it

I want food that is cooked

Me like im kai-kai e ton

No got kai-kai

Arright mary e cook now

I will not sell you any

The females are cooking

I want to sleep here

Me like sleep ere

More better you go

Sorry Masta

Maskee more better you go

It would be safer to sleep elsewhere

I am sorry

It is better that you should go

I am very tired

Me tired too much

Arright you come

Follow me

I want you to hide me

You hite im me

Me Praid

Me no can talk Masta

I won't tell

Don't tell anybody I am here

You no can tell im out im me

E no can talk

They won't say anything

Don't talk

Pass im mouse!

Tell the other Kanakas not to talk

Talk im all-a-boy e no can talk

I want a drink of water

Me like drink water

I want to drink coconut milk

Me like drink kulai

Is this water from a stream?

This pela water e savvy run?

Do you drink it?

You pela e savvy drink?

Where are the head men?

Tul-tul no Luluai e stop where?

Don't send a message on the drums

You no can pight im garamat

Stop those drums

Finish lon pight im garamut

Don't do that

You no can make im all-s-same

Arright Masta

Very well

If you look after me the Government will look after you

Yo pela look out im me behid Govt. im pay im you

Me pela e elp in you

We will look after you

If you don't help me the white men will shoot up the village

Spose you no elp im me behind all-a-masta e come shoot nabout long you pela

Me pella can elp im you

We wll look after you

What is your name?

Call im name belong you?

(write it down)

I want you to keep watch while I sleep

Sme pella Kanaka e watch long night

E can

We will

If you hear anything waken me quickly

Suppose you ear im something no good get up im me quick

Arright Masta

We will

Where is the road out of this village?

Me like look im road belong go?

(Always inspect the exits in case of emergency

Do not converse in you own language – speak pidgin

You pella no can talk place talk pidgin tasal
PHRASES WITH PARTICULAR REFERENCE TO AIRCRAFT
| | | | |
| --- | --- | --- | --- |
| I am a member of an aircrew | Me captain long balus | | |
| My plane has crashed | Balus belong me e bugger up | | |
| The propeller is broken | Screw belong im e bugger up | | |
| The tyre is punctured | Gumi belong im e got ole | | |
| I am going to repair it | Behind me work im | | |
| I want to clear the ground to enable me to take off | Me like you pela e clean im ground by me get up im balus | Arright Masta you mark im | Show us the area to be cleared |
| A white man has been injured | One pella Masta e bugger up | Masta e stop where | Show us where he is |
| Make a stretcher to carry him | You pella work im bed belong carry im | Me pella can work im | We will |
| Has the doctor boy got any medicine? | Dokta boy e got medicine? | You like im what name | What sort do you want |
| Have you got a canoe? | E got kanu | E got | We have |
| Will you take me in it? | You can bring im me? | | |
| Take me to another village | You bring im me long other pella place behind you come back | You like where? | Where to do you want to go? |
| Camoflage my aeroplane | Cover im up balus belong me long all a lik-lik hand belong dewai | E can | We will |
General Phrases in Connection with Travel
English

Pidgin

Native Replies

Interpretation

When the Japs came here which way did they go?

Time man belong Japan e come, eg long what name road?

E go long arp

They went that way

Can you see their tracks?

You look imleg belong im long road

Im ere Masta

No got

Here are the tracks

There are no tracks

Are these Japanese or white mans tracks?

Im leg belong Japan no Masta?

I tink

I do not know

Are there any white men in this vicinity?

Masta e stop where?

E stop

No got Masta

There are white men here

There are no white men

Bring me to another village

Bring im me long other pella place

Arright you come

Follow me

I don't want to go on a known road

Me no like go long road mark

Im road mark

Im road belong kanaka

This is a surveyed track

This is a native track

Will you take me in your canoe?

Me like you bring im me long canoe belong you>

E can

I will

I want to travel at night

Me like go long night me no like go long sun

No got

Arright

No


Yes

Go ahead and see if you can see anything suspicious

One pella boy e go first now watch

Me go

I will go

If you see anything suspicious call out

Spose you look im something no good sing our quick

Arright

I will

I want to go through the bush instead of the road

Me pella broke im bush me no like go long road

Arright


Place pass too much

I will


The bush is too dense

Has this river got crocodiles in it?

This pella water he got puk-puk?

I tink


No got

Probably


No

Are the natives in this village friendly or insolent?

Kanaka long tis pella place e aright no he big head?

Big head too much

Insolent

Do you know where there are other white men?

All-a-masta e stop where now?

All he go pinish

Some pella e stop

They have all gone

There are some here

Bring me to them

Arright you bring im me

Place long way too much

Arright

It is too far

I will

I will pay you well when you find the white men

Behind me pella come up me can pay im you good

Me like im money now

Arright

I want payment now

Alright

Are we coming near the village?

Place e stop close to now?

Close to

Long way lik lik

Near

A fair distance

I am lost

Me long-long long road

You come

I will show you