Day 11: Hoi – Kokoda – Bomana War Cemetery
Distance: 8.4 kilometres - Climb: 71 metres - Descent: 212 metres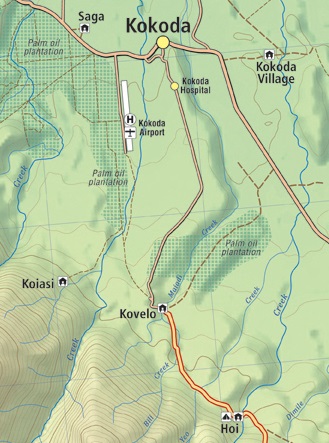 A pre-dawn cuppa before our final leg and traditional welcome at Kokoda.
Kokoda at 395 meters AMSL is an Orokaiva village located on Madi Creek. The traditional word 'Kokoda' refers to 'a place of skulls' – 'koko' means skull, 'da' means village.
In November 1899, an expedition comprising Matt Crowe, Sam McLelland, and Archibald Lyon Walker, followed Clunas' track into the valley and reached a barricaded village where they attempted to buy food. The occupants of this village, which was later to be the site of the town of Kokoda, attacked the expedition, killing two carriers.[i]
Kokoda is now a sacred heritage site for Australia. It was here that a small band of troops from the gallant 39th battalion first encountered the advancing Yokoyama Advance Guard before they were forced back into the jungle on the 29th July 1942.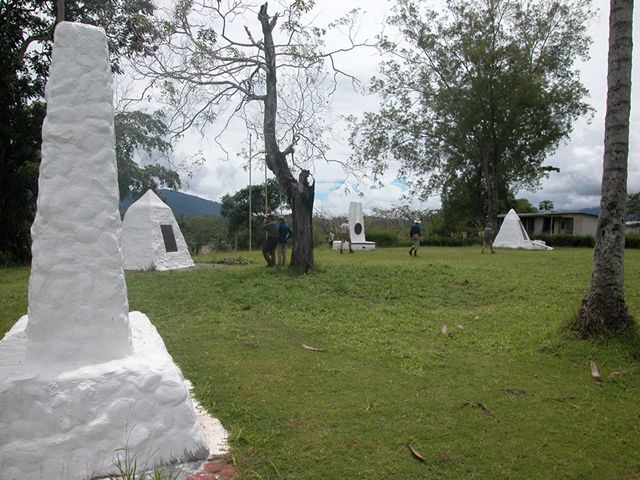 You will inspect the position where a lone company of the 39th Militia Battalion, under the command of Lieutenant Colonel William Owen, prepared a defensive position to stop the Japanese advance. The average age of one of the sections of this band of Braveheart's was 18½ years. They stood little chance against the confident and elite Japanese force commanded by Lieutenant Colonel Tsukamoto Hatsuo. The Tsukamoto battalion of 900 combat infantry troops had landed at Gona on 22 July 1942 and immediately commenced their march towards Kokoda as the advance guard of the Nankai Shitai. Their full invasion force of 10,000 was scheduled to land at Gona in mid-August.
After some initial contact forward of Kokoda the Australian 39th Battalion consolidated their position around the edge of the escarpment … and waited!
Your trek leader will provide you with a full account of the battle which resulted in Colonel Owen being mortally wounded as he led the battle from the front with his young troops.
Lieutenant Garland:
'He (Owen) was a fine man. He formed us up around the perimeter of Kokoda because that was where the Japanese would attack … and he walked around the top of the perimeter where we were all lying down … And I said 'Sir' I think you are taking an unnecessary risk walking around among the troops like that'. 'Well', he said 'I've got to do it.' I suppose a half hour later he got shot right through the forehead.'
Three months later, on 3rd November 1942 our ragged troops stood before General 'Bloody' George Vasey as the Australian flag was raised after one of the most epic campaigns in Australian military history.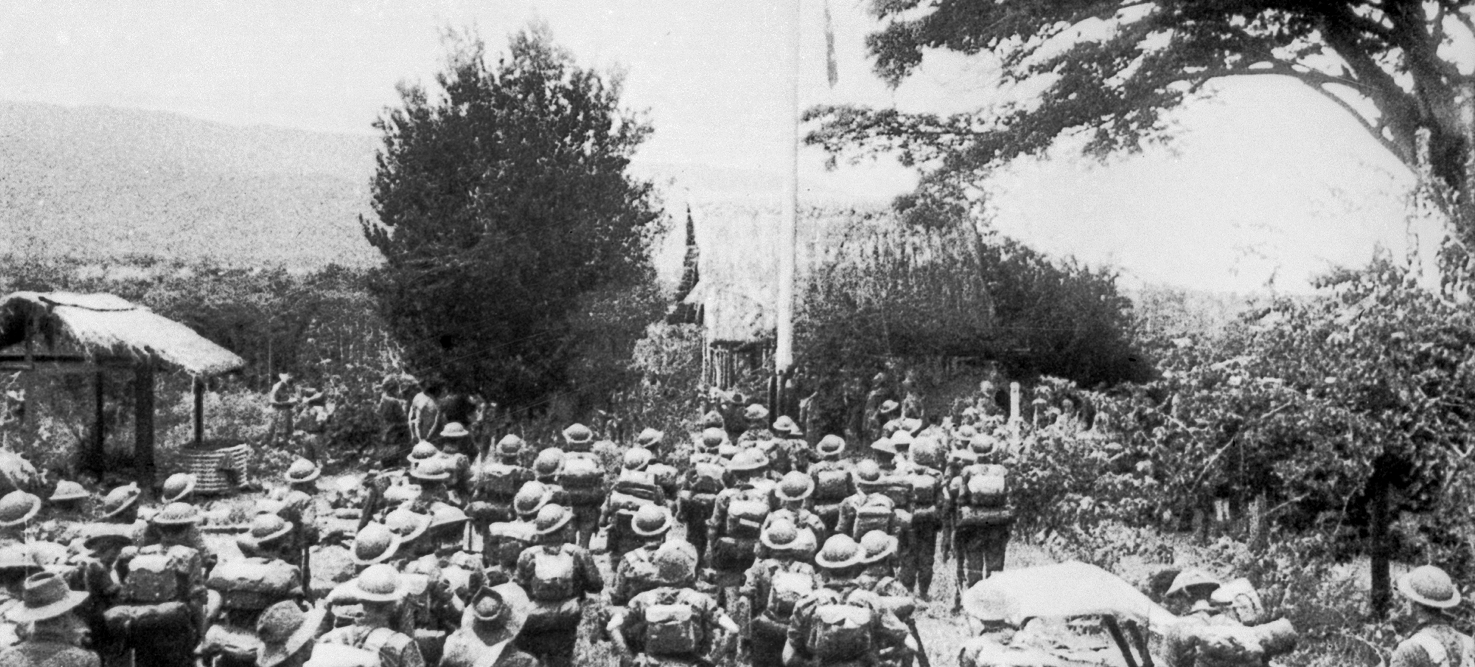 Today four monuments stand as silent witness to these historic events. Your trek leader will provide you with a detailed briefing on the plateau and guide you to the Kienzle museum.
Kokoda is a substantial village with a couple of trade stores, a hospital (which does not have a doctor and only the most basic of medical supplies), a post office with a landline telephone which only works on rare occasions, a police station, a primary school, a VHF radio and an airfield. Kokoda is now on the PNG mobile network (Telikom and Digicel) and allows for global roaming.
After a hearty breakfast you will get to inspect the monuments on the plateau and the local Kienzle museum before moving down to the airfield to prepare for your charter flight back to Port Moresby.
We then board our bus for a visit to Bomana War Cemetery where we pay our respects to those who made the ultimate sacrifice for our freedom during the Kokoda campaign.
I have many times asked myself whether there can be more potent advocates of peace upon earth through the years to come than this massed multitude of silent witnesses to the desolation of war.
King George V, Flanders, 1922
Bomana is the largest Australian war cemetery in the Pacific with 3823 graves. The cemetery lies in a serene tropical garden 19 kilometres north of Port Moresby off Pilgrims' Way. The cemetery was begun by the army in 1942 and formally dedicated by the Governor-General of Australia, Field Marshall Sir William Slim, on 19 October 1953. Those who died fighting in Papua and Bougainville are buried here.
The Cross of Sacrifice, Memorial to the Missing and the Stone of Remembrance are built of a particularly beautiful golden-coloured sandstone. The graves are marked with polished marble headstones and dressed in uniform rows on sloping lawns between the Stone of Remembrance and the Cross of Sacrifice.
On a rise at the rear of the cemetery is the Port Moresby Memorial to the Missing which consists of a rotunda of cylindrical pillars enclosing a circle of square pillars with bronze panels engraved with the names of 703 Australians as well as Papua and New Guinea local forces listed as missing-in-action. The names of the battlefields on which the men died are carved on the entablature above the pillars. In the centre is a topograph with a bronze compass showing the direction and distance of the battlefields.
Here you will visit the resting place of the men who saved Australia including:
Private Bruce Kingsbury VC of 9 Platoon, A Company 2/14th Battalion who was awarded the first Victoria Cross on Australian territory after a courageous solo effort to save his company by fearlessly cutting a path through the Japanese firing his Bren from the hip,

Corporal Charlie McCallum of 12 Platoon, B Company 2/14th Battalion killed on Brigade Hill. Former Victorian Woodchop Chamion. Recommended for the Victoria Cross at Isurava for provided covering fire with his machine gun and refusing to leave until all his mates could escape even though he had been shot three times.

Captain Claude Nye of B company 2/14th Battalion who was killed leading a courageous charge to save his Brigade Headquarters on Brigade Hill

Capt "Lefty" Langridge of D Company 2/16th Battalion. Killed in the same action as Captain Nye in the Battle for Brigade Hill. Only six of the 78 men led by Langridge and Nye survived in their attempt to save their Brigade Headquarters.

Lieutenant Colonel Bill Owen, Commanding Officer of the 39th Battalion. Killed while leading his troops from the front during the first attack on Kokoda.

Corporal John Metson of the 2/14th Battalion. Refused to be carried on a stretcher after having been shot through both ankles wrapped them in field dressings and crawled on his hands and knees for three weeks. Left in the safe care of Sangai village by Captain Buckler who went ahead to seek help but betrayed by the villagers and bayoneted to death by the Japanese.

Corporal Tom Fletcher of B Company 2/14th Battalion. A Medical orderly was a part of Captain Bucklers group who volunteered to stay behind with the wounded at Sangai including Corporatl Metson , they were betrayed to the Japanese and bayoneted to death.

Lieutenant 'Butch' Bisset of 10 Platoon , B company 2/14th Battalion who died in his Brother Stan's arms after the battle at Isurava, Butch had been machine gunned while leading his men in an attack against all the odds
along with 3815 young Australians who 'gave their tomorrow for our today'.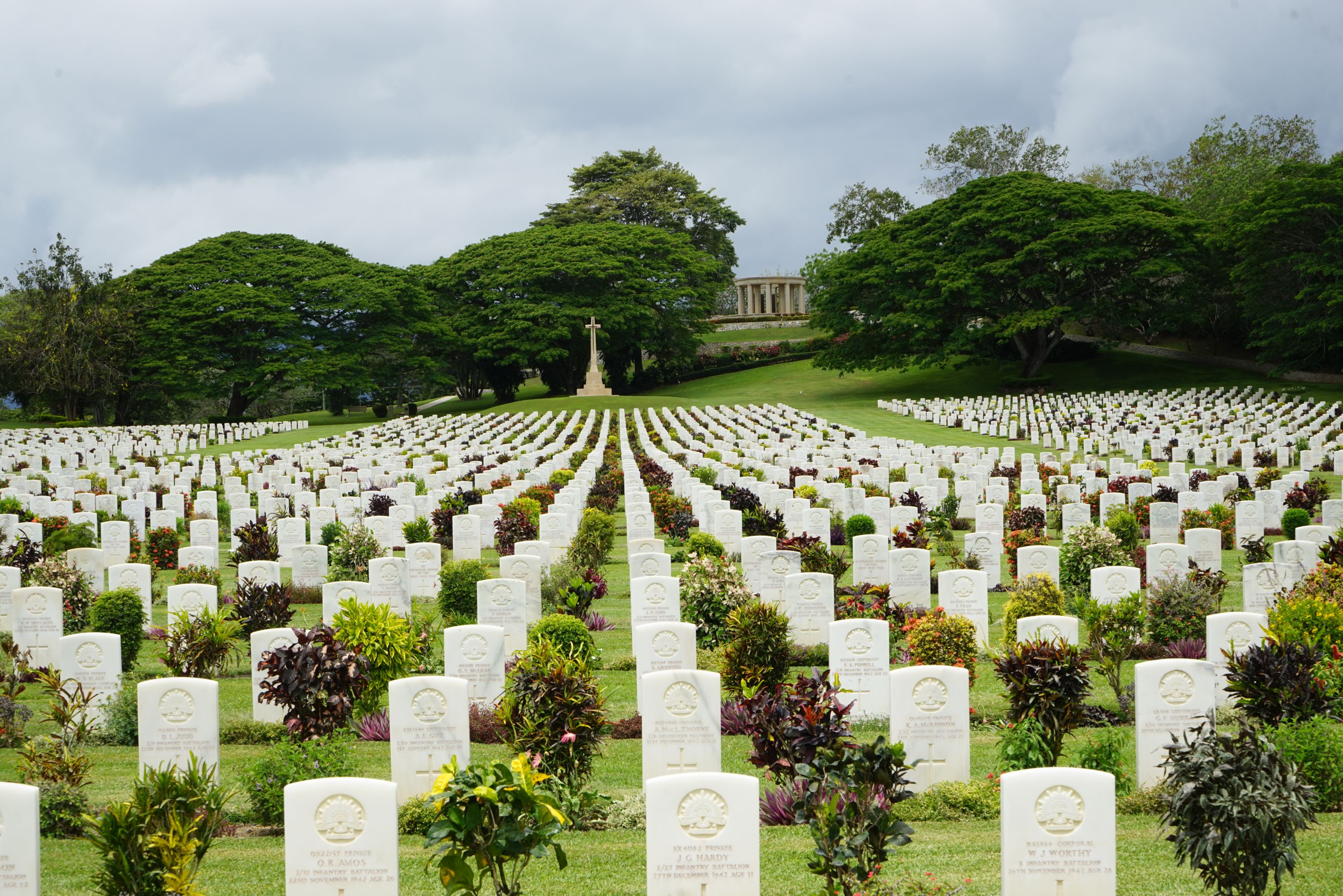 "We think of them in sorrow and with pride, but there should be a third feeling stronger than grief, greater than pride. A sense of fullness and achievement. To us, their lives may seem to have been severely shortened. Yet in truth they were full lives. It is not how many years a man lives that matters but what he does with the years – many or few – that are granted to him. And those who sleep here did much with theirs"
Sir William Slim
After the commemoration service conducted by your trek leader we then return to our accommodation where you will be able to have a hot shower, a cold beer and an unforgettable pizza and later that evening a presentation dinner.