Day 3: Imita Base to Ofi Creek via Imita Ridge and Ioriabaiwa Ridge
Distance: 18.5 kilometres - Climb: 1193 metres - Descent: 1044 metres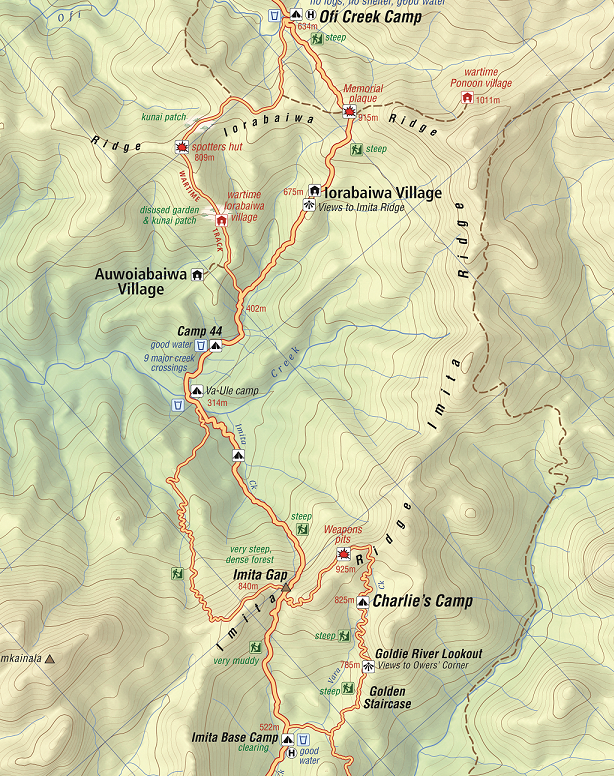 A hearty breakfast will set you up for your first endurance test this morning – muesli, weet-bix, a variety of tinned fruits, biscuits (with jam, peanut butter, vegemite) and tea, coffee or hot chocolate.
After breakfast and briefing this morning we begin our first climb up Imita Ridge to the Imita Gap at 850 m AMSL
'The engineers cut more than 2,000 steps on this spur. Many men tried to count them, but soon lost interest in the figure from the breathless effort to reach the top. The narrow track seemed to go interminably upward. A glimpse of the sky through the trees ahead instinctively quickened men for a few paces, until the spot proved to be a false crest where the spur turned slightly to continue upward, its top still hundreds of feet above. This prelude to the Owen Stanley Ranges was known as the 'Golden Stairs'.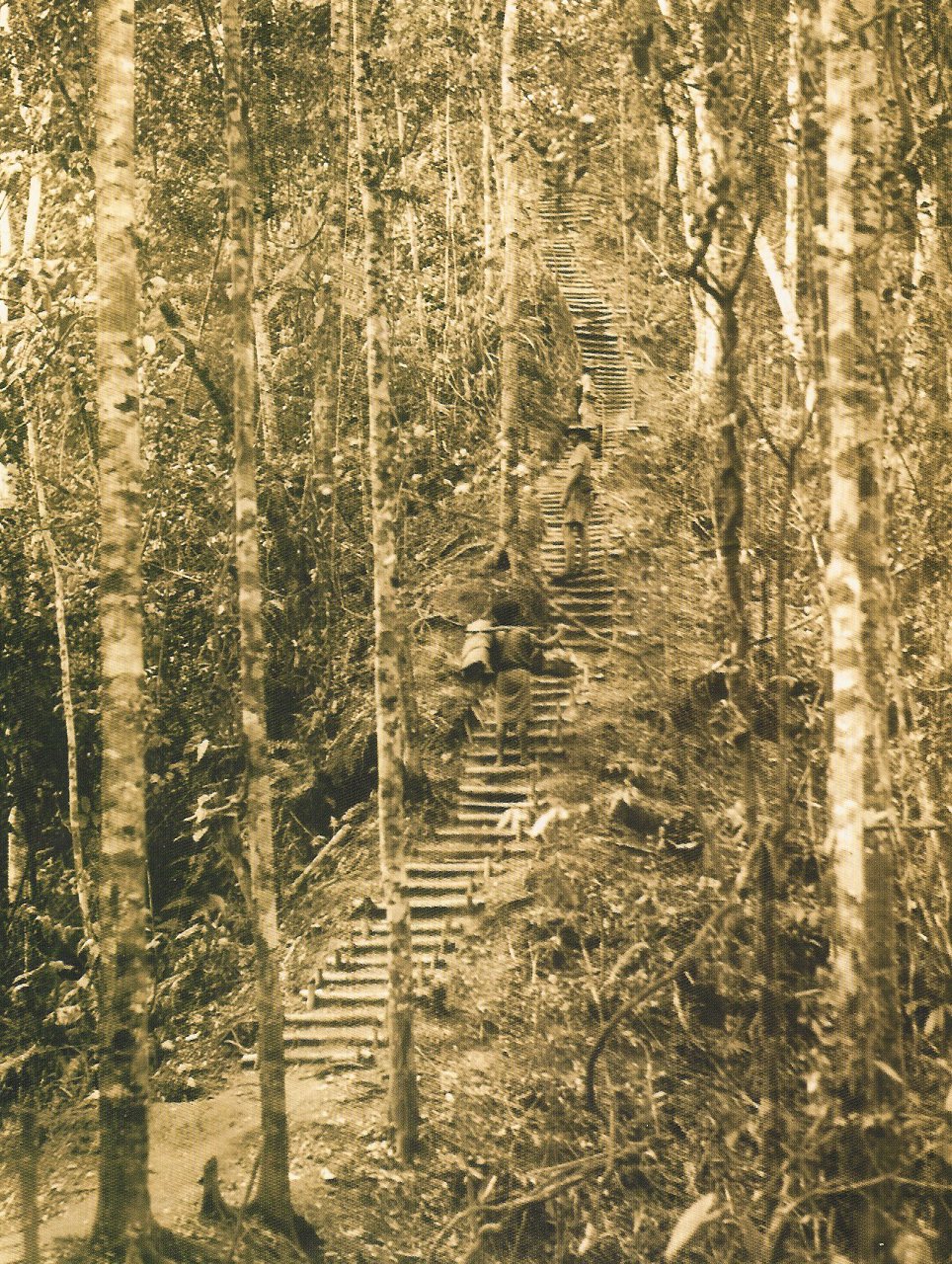 'The track climbed to a saddle on the Imita Range. There, on a small shelf, twenty yards wide, it provided the weary soldier with a superb but disheartening panorama of the country beyond. Across the valley lay another ridge like the one he had scaled, and another beyond, and more, each clad with jungle except for a distant patch of kunai and a few native huts. Apprehensively, the soldier knew this to be Ioribaiwa, the end of that day's march.

'From the Imita saddle, the track plunged steeply down another narrow, knife-like ridge, which fell into a stream one thousand feet below.'[i]
On the northern side of Imita Gap there is a steep descent to Imita Creek. It was here that Albert Moore set up a Salvation Army shelter to prepare soup, hot tea, biscuits and scones for weary troops passing by.
Albert Moore
Charlie Lynn grew up in Orbost, a small town on the Snowy River in Gippsland. The local milkman and Salvation Army Officer was Albert Moore. Charlie did not know he was a hero of Kokoda until they met at 'The Last Parade' he helped organise at Isurava in 1998 - 31 years after he was conscripted into the army from Orbost. How many of us grew up amongst these 'silent heroes' without ever knowing it?
The trail continues down to Imita creek and from here it meanders back and forth across the creek for about almost an hour before it reaches Va Ule Creek (formerly know as Munikahila Creek). You are now entering the jungle and will notice a large variety of trees with enormous buttressed roots to help them keep a foothold on the sharp slopes and eternally sodden soil. The struggle for survival in this rain forest is fierce. Growth, decay and death are all rapid so that the parasites and saprophytes luxuriat in the thickening canopy of creepers bearing strange flowers and fruits. In the lower levels of the Owen Stanleys grow wild nutmeg trees, taun, kwila, erima, rosewoods, mahoganies and New Guinea walnut. Higher up are red cedars, beeches, oaks, and isolated stands of Klinkii and hoop pines reaching 90 metres. Many of these trees are deciduous.[ii]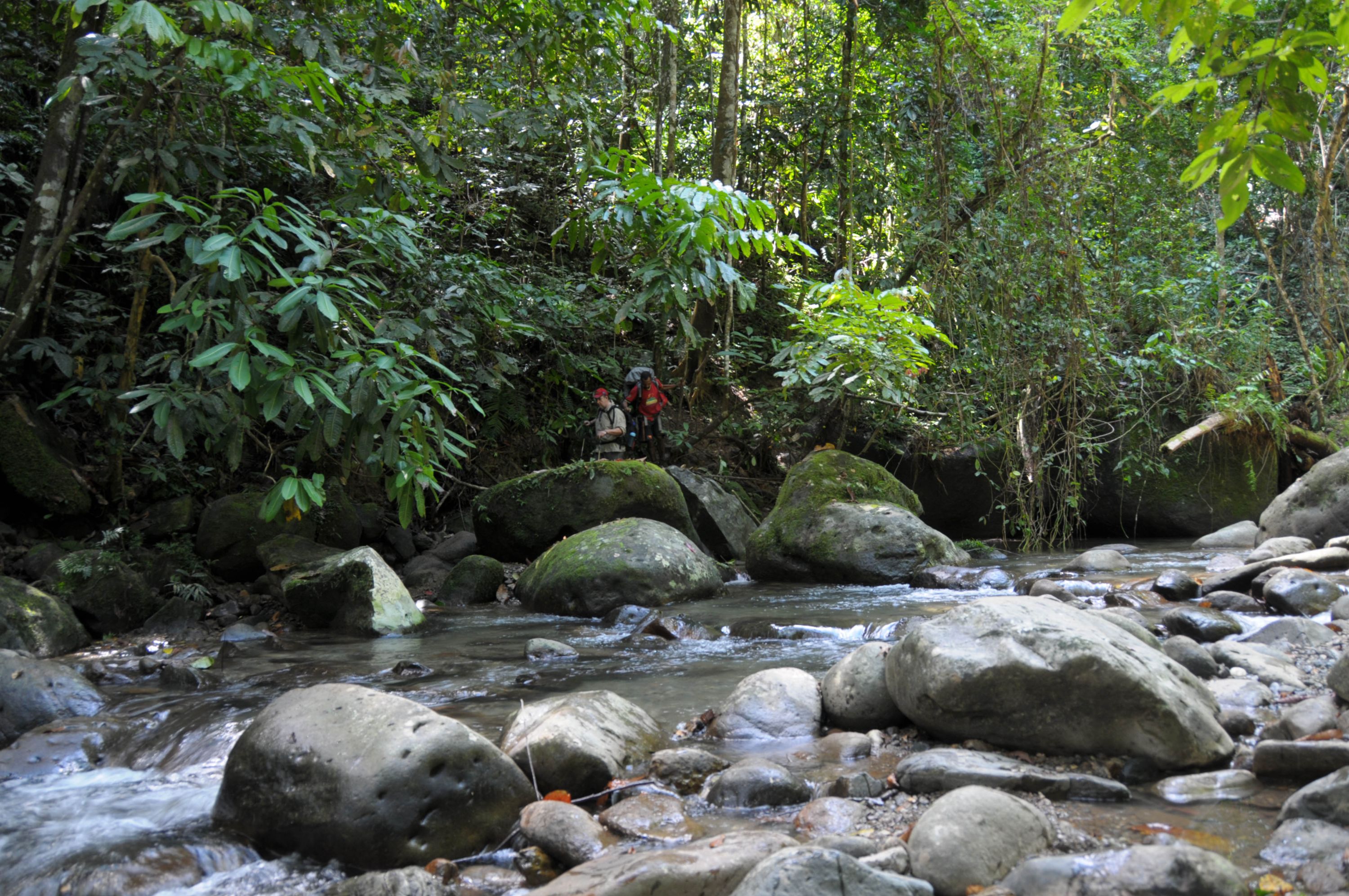 We stop for lunch at the Va Ule campsite and take time out for a refreshing swim.
After lunch we continue to criss-cross Imita Creek and pass the junction of 'Ask Eric Creek' to the base of Ioribaiwa Ridge at the junction of Imita and Morau Creeks.
We then have a fairly steep climb for about an hour without much relief to Ioribaiwa Village which is at 580 m AMSL. Glimpses back across Imita Ridge on the way up give the trekker a good feel for the awesome nature of the terrain. Weapon pits can still be found on the southern slopes. Today the wartime village of Ioribaiwa has five huts and is about 10 minutes off the main track.
'Gradually men dropped out utterly exhausted – just couldn't go on. You'd come to a group of men and say 'Come on! We must go on.' But it was physically impossible to move – many were lying down and had been sick … many made several trips up the last slope helping others. We began to see some of the tremendous effort the troops were going to make to help the lesser ones in. Found many of the battalion (at Ioribaiwa) lying exhausted, some ate, others lay and were sick, others just lay. Some tried to eat but couldn't.[iii]
After a welcome morning tea break we continue our climb for another hour until we reach the crest of Ioribaiwa Ridge. This is as far as the Japanese got in their advance towards Port Moresby.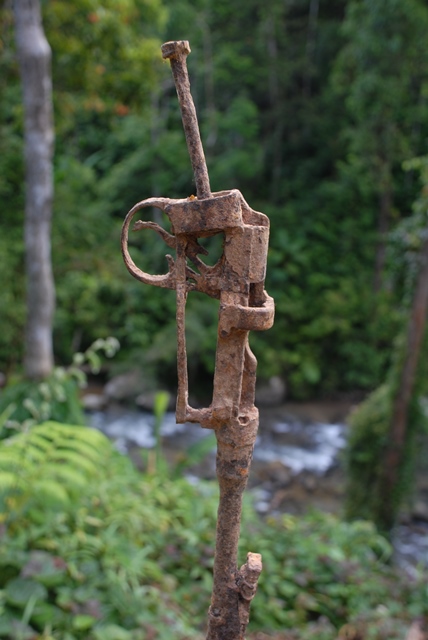 Our briefing here will examines the battle for Ioribaiwa Ridge at 825 m AMSL; the unexpected order for the Japanese forces to withdraw to the beachhead areas of Buna and Gona while their High Command waited the outcome of the battle at Guadalcanal; the confusion caused by the fresh Australian Brigade failing to establish a firm base on Imita Ridge; the undue caution this caused; and the crisis created in Australia when Brigadier Ken Eather asked for permission to withdraw to Imita Ridge.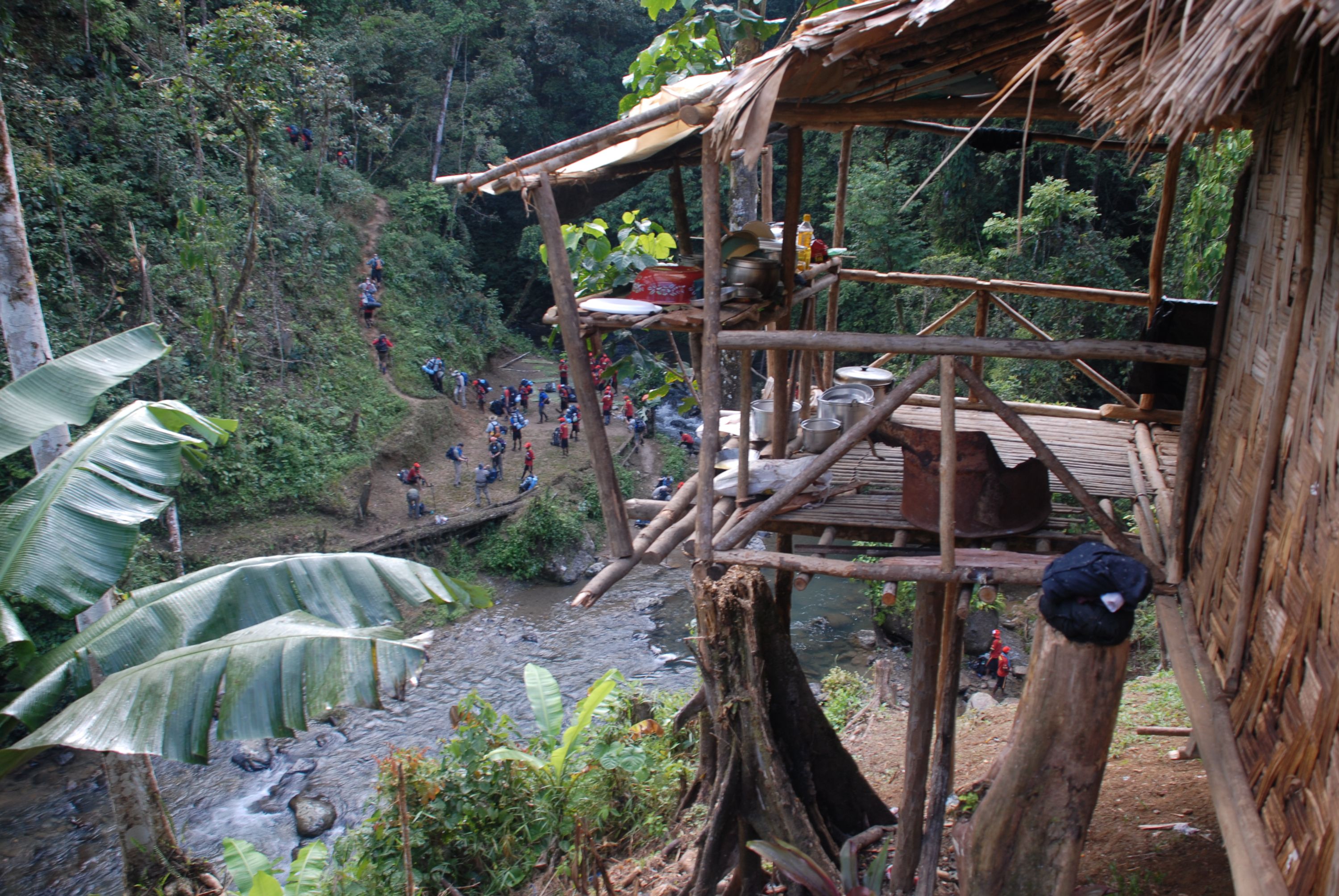 Historians are yet to examine the implications of Brigadier Eather's four day delay in attacking Ioribaiwa Ridge. How many Australians were killed at Templeton's Crossing-Eora Creek-Buna and Gona because of the additional time this gave the Japanese to prepare their defensive killing grounds'.
After our briefing at the top we have a steep 35 minute descent down to our campsite at Ofi Creek at 625 m AMSL - it boasts one of the best swimming holes along the trail. Our 'bos kuk' will be waiting to serve you hot soup followed by canned meat and vegies on a bed of fluffy rice which you can wash down with tea, coffee or hot chocolate. You will sleep well tonight.