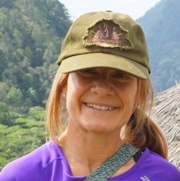 Tracie is the General Manager and engine room of Adventure Kokoda - she is on-call 24/7 and will look after your every need and concern from the moment you book your trek until you arrive back in Australia.
Tracie Watson first trekked Kokoda with Charlie in 2010. She joined Adventure Kokoda as General Manager at the beginning of 2017.
Tracie brings a wealth of experience to Adventure Kokoda - she has lived in Singapore, the United and States and Canada for extensive periods.
Prior to joining Adventure Kokoda Tracie spent 10 years with Rio Tinto - her last role was Global Mobility Administration Manager looking after their international secondments.
Tracie will most likely be on the end of your phone call, email messages and will look after your booking and answer any questions you may have. She has a passion to go 'above and beyond' to ensure our trekkers have the best experience.
When Tracie's not 'working', she enjoys being active outdoors; walking, jogging, cycling, hiking and camping.
She is thrilled to be part of the passionate and dedicated team - her personal motto is: 'I love what I do'.