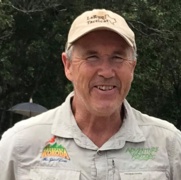 Craig joined the Australian Army in 1979 and was posted to the Royal Australian Infantry Corps where he has served for 40 years with over 20 years serving in Special Operations Command as a Commando.
Craig has seen regimental service as a soldier and officer rising through the ranks within The Royal Australian Regiment and Special Operations Command, his career culminated as soldier with two Regimental Sergeant Major (RSM) appointments prior to commissioning to officer in 2005.
Operationally Craig has served in South East Asia, East Timor, Solomon Islands, Afghanistan and Iraq.
Craig was awarded the Order Of Australia Medal (OAM) for meritorious service to the Australian Defence Force within Special Operations Command for over two decades. Craig retired from the Army after his final appointment as the Regimental Executive Officer of the 2nd Commando Regiment in 2020.
Craig has served in PNG on a number of occasions as part of exchange programs and exercises with the PNGDF where he developed a keen interest in the Kokoda campaign. With his long time military experience, training in jungle warfare he will use his skills to enlighten and preserve the history of Kokoda.
He is a keen Adventure motorcycle enthusiast, runner and enjoys keeping fit.