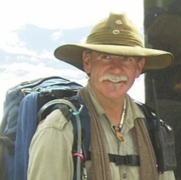 'If you threw Chuck Norris and Indiana Jones into a blender and added a few Anzac badges (not biscuits) for good measure, most likely it would be Charlie who would emerge. He carries a distinct air of confidence, a hard as nails approach but with a hint of larrikin in his eyes. I liked him already'.
Mark Watson
'Walking Among Ghosts'
Australian Geographic
Charlie has led 100 expeditions across the Kokoda Trail over the past 30 years.
He previously served in the Australian Army for 21 years. During this time he saw active service in Vietnam; was assigned to the joint Australian, New Zealand and British (ANZUK) Force in Singapore/ Malaysia from 1970-72, and as an exchange instructor in Airborne Logistics with the United States Army from 1977-78. He is a graduate of the Army Command and Staff College.
During his assignment with the US Army he completed the Special Forces Military Freefall course which involved tactical HALO (High Altitude Low Opening) parachute jumps from 20,000 feet - on oxygen with full combat equipment - at night!
After leaving the army Charlie worked with the Australian Rural Leadership Program in the Kimberley running outback leadership survival programs in remote areas.
He has been leading expeditions across the Kokoda Trail since 1991 and in 2019 he completed his 99th crossing. He is a keen student of the Kokoda campaign and an activist for protecting and honouring our military heritage along the trail.
Charlie funded the establishment of Network Kokoda as a not-for-profit company to honour the legacy of the PNG wartime carriers and our veterans through the provision of educational, health and agricultural programs in Central and Oro Provinces.
In 1987 Charlie held the NSW State Ultramarathon record by running a distance of 213 kilometres in 24 hours. He was placed 2nd in the Bathurst Centenary 100 km ultramarathon with a time of 8 hours 26 minutes.
In 2015 Charlie was inducted as an Officer of the Logohu by the PNG government in their New Years Honours and Awards list 'for service to the bilateral relations between Papua New Guinea and Australia and especially in the development of the Kokoda Trail and its honoured place in the history of both nations over the past 25 years.'
More recently Charlie was awarded an Order of Australia in the 2018 Queen's Birthday Honour's List 'for services to the NSW Parliament and the people of New South Wales'.