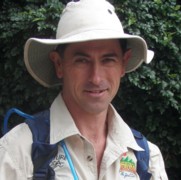 Dave Sherry
Dave began exploring Australia as soon as he was old enough to escape Sydney. He was born in the city but his heart was in the bush and he now lives on a farm just outside the western country town of Horsham. There are few places in Australia that Dave hasn't trekked on foot or explored in off-road vehicles. He even took to the sea as a crew member on the Tall Ship HMAS Bounty during the Bicentenary in 1988.
Dave first trekked Kokoda in 2006 and began leading expeditions across the trail in 2011. He has now led more than 35 groups across the trail.
Dave is a natural leader – a quiet achiever with outstanding bush skills, great physical strength and a detailed knowledge of the Kokoda campaign. But More importantly he has earned the respect of our Koiari and Orokaiva leaders and guides because of his natural interest in their culture, their welfare and their development.
When Dave is not trekking Kokoda he is trekking or leading groups through the Grampians National Park in Victoria which is only a short distance from his back door.
Laura Dick
'Dave Sherry was an unbelievable leader! He was so passionate about his job and it was infectious! The way he told the stories about the troops and recited the poems made the trek all the more worthwhile and meant so much more while on the trek. He was able to create a picture in my mind to make it all the more realistic! Dave was a genuine man and truly made you feel part of the group. He knew when you needed a chat and was constantly on the look out for everyone.'

'Dave showed us his level of passion for every aspect of the trek. He led us in such a way that he was an average down to earth guy that people choose to listen to and follow. We didn't listen because he made us, we listed to him because we respected him and he respected us.'
Robert Heath
'Amazing doesn't even cut it. I'm not sure what I can say Dave was outstanding.'

'I can't thank you enough for getting me through the hardest challenge of my life, I'm not sure of the words to say but I do appreciate what you taught us all, your poems, little things you said to get all of us through.'

'I will never forget what you did for me and I hope you don't mind me calling you a friend for life'.
Marita Chuck
'Dave was amazing in his history knowledge, poetry and just been a top bloke, you're very lucky to have him on your team he made our journey very enjoyable..'
Shelby Dowrick
'I would just like to once again thank you for your amazing leadership and support in experiencing Kokoda. One of the most amazing trips of my life......actually I think the best!!'

'I felt safe, well informed and more knowledgeable in the history of Kokoda from the beginning until the end. I will be highly recommending Adventure Kokoda and very much emphasising to people to look out for you as a great trek leader.'

'Thanks again Dave'
Wendy Turnbull
'Just wanted to pass on that I was extremely impressed with all aspects of the trek I have just completed with David Sherry.'

'Being an old military dog of 30 years I had quite high expectations and was not disappointed in any respect - my current CO (LTCOL Debbie Smith) talked you up prior to my trek and I have no doubt will catch me up sometime this week for a run down.'

'Dave's passion for the history of Kokoda and his ability to create a team with cohesion in such a short space of time is very commendable.'
Joe Capaldi
'Thanks again for leading us on our recent trek across the Kokoda Trail. I have recently caught up with my trek family who all spoke very highly of you. I couldn't agree with them more. Your knowledge of the Kokoda War Campaign, the trail and most importantly, the people whom you affectionately refer to as 'The Men' was outstanding! '

'You, Dave, are an outstanding leader and most importantlyl, just a good bloke.'
Patrick Silk
'Dave sherry was outstanding. Such passion and love for the history and culture of PNG. I am a better person for knowing Dave, he was a great influence on my experience.'
Daniel Page
'I just wanted to say thanks again Dave for such an amazing experience. It was such a pleasure to get to know you on the trail, and hear all of your stories - wartime, personal and poetry included! You have an admirable character and it made the experience more special than I could have ever expected.'
Alex Brew
'I would like to take this opportunity to commend Dave as trek leader. His leadership skills & ability to relate to everyone in the group not only kept us informed, however safe & at times greatly entertained (his poetry reciting was a highlight at the days end). Dave also clearly has established a strong rapport with the locals & a thorough knowledge of not only the track but the local customs as well.'

'It was no doubt an experience of a lifetime & I would wish to thank Dave for such an enjoyable & memorable trip.'