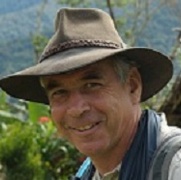 Simon joined the Australian Navy a Cadet Midshipmen in 1973 and carved out an outstanding career spanning 33 years. He specialised in maritime surface ship operations and spent the majority of his career at sea.
His career included command of two Australian Navy Destroyers - HMAS Hobart and HMAS Brisbane. He was awarded the Conspicuous Service Cross for exceptional Leadership and Management as a result of his Command of HMAS Brisbane in 1998.
Simon was promoted into positions serving in senior Tri-service and Maritime Operational Headquarter staff positions during the Timor and Bougainville Operations. He was promoted to Commodore in 2001 when he led the Navy's Personnel and Training Organisation. His last occupation in the Service was as the Commander, Surface Combat Force Element Group based out of Sydney.
Simon chaired the Australian Navy Central Canteens' Board and Relief Trust Fund 2002 – 2005 and was a Director, NSW Dragon Boat Racing Association 2005-06.
In 2006 Simon traded his membership of the Australian Navy's Senior Leadership team for a more active lifestyle in the private sector. Having completed the 800 km trek across Northern Spain, Simon commenced a beef production enterprise on the NSW South Coast in June 2006.
Simon was delighted to be invited to join the Adventure Kokoda Trek Leader team where he commenced leading Adventure Kokoda Trek teams in December 2006. With 27 successful Kokoda treks under his belt as a Trek Leader, Simon has seldom stopped trekking since!

Professional Memberships:
Fellow, Australian Institute of Management
Member, Australian Institute of Company Directors
Member, Shoalhaven Beef Producers Association
Trekker feedback on Simon's treks . . .

'Simon was fantastic. You would expect nothing less from a true professional. Told the story with passion which everyone appreciated. Have recommended to others to request him with their groups . . .'

'Simon demonstrated excellent leadership skills – he was able to communicate a great sense of belief in each person's ability. Good military history, good fun, could take a good joke . . .'

''Simon was a fantastic trek leader – very knowledgeable – kept people going and encouraged them . . .'

'Simon was a great role model during the trek. His leadership and organisation is of a very high standard . . '

'Couldn't have asked for a better leader than Simon in all respects . . .