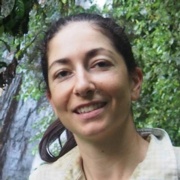 Carla brings great organisational skills, energy and humour to her role. She is passionate about the Kokoda campaign and thrives on seeing how transformative and life-changing this experience can be for trekkers.
Carla was initially inspired to trek Kokoda to honour her Grandfathers service with the AIF in Buna and has now successfully participated in a number of Adventure Kokoda Youth Leadership Challenge treks as a Trek Guide.
Managing our Adelaide training program she is quickly becoming well-known for her dedication and efforts in ensuring that our South Australian trekkers are as 'trek-ready' as they can possibly be to maximise their Kokoda experience. When Carla is not trekking or training others, she uses her Master in Human Nutrition in her business to provide professional nutrition advice.
Carla is an avid student of the Kokoda campaign, reading anything she can get her hands on and she is passionate about sharing the military history of the campaign and in particular, the human stories with trekkers. She is also a vocal advocate for the preservation and commemoration of the military history along the trail, improving management of the industry including better flow through of resources to the villages along the trail and she is a proud, ongoing supporter of Network Kokoda.
Luke Spajic
I had the privilege of trekking with Carla last year. a natural leader with a great balance of fun and down to earthness to push you but make sure you're entertained while you do it! Highly recommended
Angus Dunne
I was lucky enough to have Carla as a trek leader in 2018. Carla has such a great attitude towards life and her presence is inspiring, supportive and grounding. Her great sense of humour made me laugh daily. Carla has extensive knowledge around the trek and physical fitness/nutrition. Carla is an amazing trek leader, request her if you can!
Kayla Squires
Carla is a very knowledgeable and trustworthy Kokoda guide, who I got the pleasure of knowing on my recent Kokoda Youth Leadership Challenge. She is fun, motivating and easy to be around.
Tristan Lord
Carla is very knowledgeable and passionate about the Kokoda trail and the PNG people that reside along it.