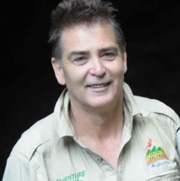 Bernie is a Kokoda tragic. He first trekked with Kokoda to honour his father who served in New Guinea during the war. He has since trekked it 55 times. Bernie has transposed his success in business to his passion for leading treks across the Kokoda Trail.
Bernie first trekked Kokoda in 2003 as a tribute to his father who saw active service in PNG during the war.
The experience had a profound effect on him and he is now a student of the campaign. Bernie has now trekked Kokoda more than 50 times and is familiar with all aspects and each of the battles of the Kokoda campaign. He has also established a close relationship with our Koiari and Orokaiva guides and carriers who have enormous respect for him.
Following on with his passion for Kokoda and all that it represents, Bernie along with his colleague Gary Blackwood, who himself has accomplished various Kokoda treks, have made available a Kokoda Scholarship, namely 'The George Collins Award'.
This incentive is open to year 10 students attending any one of the 5 Secondary Colleges within the Baw Baw Shire and is wholly funded by the generosity of local sponsors.
Applicants are required to construct an essay entailing what Kokoda meant to Australia and the significance of Kokoda to them as an individual. Since the inception of the 'George Collins Award', George Collins himself, a veteran of Kokoda aged 96 years, 30 students have made the crossing of The Owen Stanley's. The scholarship also enhances the importance of Kokoda and its need to be recognised and remembered. Bernie remains true to the meaning of Kokoda and all that it holds as it serves to remind us of the 'Never Say Die' effort of those ragged bloody heroes.
Peter Milne:
'I simply can't speak highly enough of Bernie Rowell. His passion and enthusiasm for the Track is infectious and he leads the local team extremely well. He has a great rapport with them and his affable nature brings out the best in both the locals as well as the Trekkers.

'The local Trek Leader was Willy and, as the man mostly behind the scenes from the Trekkers' perspective, he performed wonderfully with his 'boys' ensuring a happy environment all round.
Robyn Buis:
'Bernie was wonderful. I always felt safe and very well supported. Nothing was a problem and he worked tirelessly to make sure all the trekkers were well informed, briefed on where we had been and where we were going. Bernie gave comprehensive lessons on the historical aspects of the track.

'………I grew up in PNG so I was under no illusion of what the land of the unexpected might throw at us. I honestly was expecting more hiccups, some minor and some major. It goes to show the level of pre trek planning and the expertise of Adventure Kokoda. I was reassured that the trek leader knew exactly what he was doing and there were really no surprises. As a side issue, an event that took place which made the trip very special to me was as follows. I took along with me some photos of my Policeman father on patrol on the Kokoda track in 1968. I happened to show them to Paulie, local trek leader, he said from the photo he recognised the exact spot where my father was 49 years ago! Paulie stated it was by the Goldie River. Amazingly he was right on the money and we were able to recreate the same photo 3 generations on with me and my son. I could not be more grateful and this was so special. All in all walking the Kokoda Track has been a long time coming for me and I am very grateful that I was able to complete it with my son. I will put a report up on Trip Advisor that hopefully represents my thoughts on Adventure Kokoda. Thank you all from the bottom of my heart.'
Danielle McCurdy:
'Can't thank Bernie & Gary enough for everything that they contributed and lead the team to get us through. Never felt rushed or disorganized. Have just read some other comments on trip advisor regarding other companies and what I found fantastic with Bernie & Gary is that they always where at the end with my Dad bringing up the rear of the crew. It means that they didn't miss out on any of the briefings or felt to far behind.
Always had a great sense of humor and were patient with everyone on the trip and handled the evaluations very professionally.'
Marianne Woodhouse:
'Bernie Rowell may have had a supportive leadership role but nevertheless no less important role on the trek. He was very helpful volunteering his services to take lots of photos on the track so each of us had some shots of ourselves to take home. Bernie certainly reduced the discomfort of the 'hard slog' with his morning and evening 1st Aid Stations not only for us trekkers but also rightfully so for our wonderful modern day fuzzy wuzzy angels . .'

'Would not have been the same experience without both Chad and Bernie. Their knowledge, experience and passion for what they do and why they do it was the icing on the cake.'

'Bernie did an amazing job. He kept all of us going throughout the Trek with our different ailments. More importantly his passion for the history of Kokoda to be retold was evident in every trek briefing that he gave us. It was clearly evident that he knew the information. He was a good sport too especially with Peter and the rock, Wilson'.