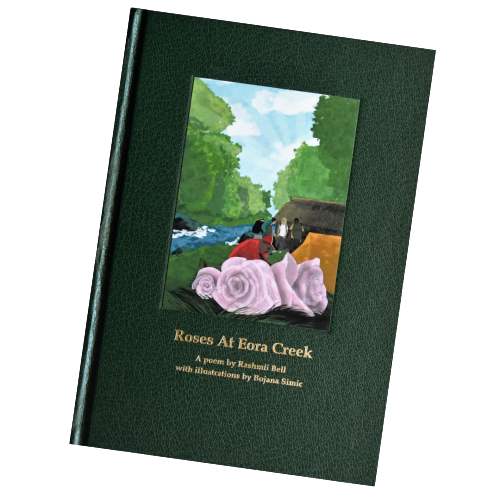 Roses At Eora Creek by Rashmii Bell
Adventure Kokoda and Papua New Guinean author, Rashmii Bell are delighted to announce the release of their young readers book, Roses At Eora Ceek.
Published in hard cover edition and featuring stunning illustrations by Bojana Simic, the poetry prose written by Ms Bell invites young readers to participate in ongoing efforts to encourage the industry to implement ethical and sustainable measures to support Kokoda Trail Guides and Carriers.
"In 2018, I had the opportunity to undertake my first pilgrimage of the Trail alongside a wonderful group of young Australians. The trek, my fellow trekkers, the Koiari and Orokaiva people and communities of the Trail, the Adventure Kokoda team and knowledge sharing I've benefited from all has had an incredible impact on me" said Ms Bell.
Roses At Eora Creek is a call to action for reform for the improved welfare and work conditions for the Papua New Guinean Guides and Carriers of Kokoda Trail wartime trek tourism.
---
AU $19.95
Shipping will be added during checkout after the address has been entered.
Please contact us for overseas delivery or bulk orders.
Approximate postage within Australia: $4.95 per item.