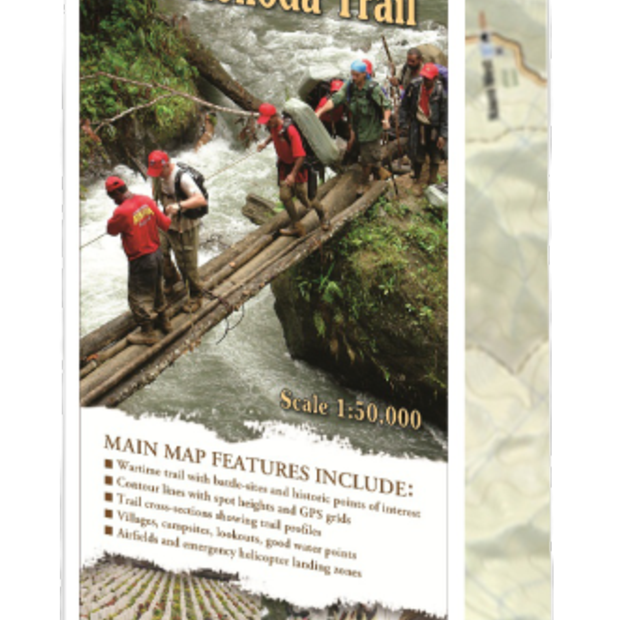 Kokoda Trail Map Topographical 1:50,000
The 1:50,000 topographical map of the Kokoda Trail contains a detailed plot of the wartime tracks used during the Kokoda campaign together with details of today's eco-tracks. The map features:
Location of wartime villages, battle sites, fire-support bases and logistic support areas
A comprehensive narrative of the Kokoda campaign
Detailed map inserts for each major battle of the Kokoda campaign
Villages, campsites, lookouts and water points
Airfields and emergency helicopter landing zones
Traditional and wartime names of mountains, rivers, creeks and significant features
Contour lines with spot heights and Global Positioning System Grids
Trail cross sections showing track profiles
Bush tracks connecting villages off the main trail
Map folds to show the topography of each day's trekking together with a cross profile illustrating ascents and descents for the day ahead.
The recent development of the Garmin GPSMAPS 60 handheld receiver with high sensitive antennae allowed satellite signals to penetrate the jungle canopy over the Kokoda Trail and obtain accurate readings for the first time.

Over the years we have conducted numerous mapping expeditions over all sections of the Kokoda Trail utilising official army survey maps, descriptions from various battalion histories and the guidance of local landowner teams. As a result we have been able to identify the wartime location of villages and local names of all mountains, rivers, creeks and features along the Kokoda Trail.

References for the compilation of the map include:
Royal Australian Army Survey Corp Map EFOGI. 1;100,000
KOKODA
PORT MORESBY
Wartime sketch maps and air photographs from the Australian War Memorial and the National Library of Australia
PNG Mapping Bureau Survey Map of the Kokoda Trail
Descriptions of the trail from wartime journalist, Osmar White
Village elders from the Koiari and Orokaiva people who lived along the trail in 1942
---
AU $24.95
Shipping will be added during checkout after the address has been entered.
Please contact us for overseas delivery or bulk orders.
Approximate postage within Australia: $4.95 per item.