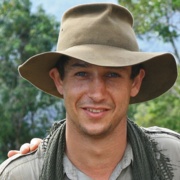 Peter Morrison is an unassuming young Australian. He first trekked with Adventure Kokoda almost a decade ago and developed a strong desire to learn more about the campaign and the people he met along the trail.
Unbeknown to us he was an accomplished boxer and recently turned professional. He is a former NSW Welterweight Champion and was recently invited to assist in coaching the PNG National Boxing Team in their lead-up to the Commonwealth Games.
We are obviously proud to have Peter as a trek leader with our Adventure Kokoda Team. He has now led 27 treks across the trail over the past five years.
Peter was inspired by his grandfathers service in both the army and airforce during WW2. He is now keen student on the Kokoda campaign and devotes much of his time working with young Australians to pass on the Kokoda story. He is also a tireless fundraiser for Network Kokoda and is about as dinkum as they come.
When he is not trekking he is a construction manager on celebrity television renovation programs.
Senior First aid qualified.
Maryanne Sewell:
'I think Peter Morrison did a great job as a trek leader, particularly as this was his first trek as the leader. Most of the trekkers in this group did know each other prior to the trip. This scenario did work well, and Peter interacted positively with all of us in spite of there being a range of ages from 15 to 50. He was a great role model for the 15 year old on the trek. Peter showed professionalism and maturity beyond his years keeping in touch with us and monitoring both our physical and emotional well being. I know that this opinion was also supported by the local carriers who commented to me that they were impressed with his leadership and glad to be on this trek.

'Peter handled the stories on the track with amazing sensitivity. I am now aware of just how uninformed most Australians are of the events that occurred on the track. We all now have more than a keen interest in the battles on the track thanks to Peter – I haven't stopped talking about it.

'The most memorable events for me were the presentation that Peter delivered at Brigade Hill – this blew us all away and were surprised how emotional we were; Isurava Memorial – the power of this special place also caught me unaware. Our dawn service was amazing the local carriers voices really resonated and this was really special. I felt privileged to have been given the chance to read on this occasion.

'My biggest recommendation for Peter is that if any of my family does this trek (I am hoping they will); I want them to have Peter as their leader.'
Kimberlea Juchniewicz:
'There is only one word that can describe our journey and that is unforgettable. This assessment would not be possible without the guidance of our trek leader, Peter Morrison. He is without a doubt outstanding and an asset to your organization.

His ability to convey his extensive knowledge of the Kokoda campaign to the group has left an enduring memory on all participants. His ability to integrate and build a rapport with all trek participants was extremely impressive to a point where it was as though he was a member of the unit and the staff all want to know when they are going to see him again. The relationship that has been created with Adventure Kokoda and the unit is one that I will attempt to foster into the future.

Peter you are an amazing individual and I am honoured to have met you and in particular to have shared the experience of walking the Kokoda Track to commemorate the 75th anniversary of the actions of the brave men of the 39th Battalion. I cannot thank you enough.'
Kylie Robinson:
'My trek on the Kokoda Trail was so much more than I expected it to be. I am so grateful to Peter Morrison for his knowledge and the way he shared and expressed this with our group. I was very apprehensive about travelling on my own, though I shouldn't have as I felt so comfortable from the time I arrived in Port Moresby. I have grown as an individual and discovered a mental and emotional strength from within, thanks to the way Peter conducted the trek.

As a mother of a son in the Military, after Peter's recount of events, I now have a peace of mind that each soldiers life was precious and everything possible was done to help those wounded men. When and if the time arises to farewell my son on his deployment I will do so with a heavy heart but an assurance that everything possible will be done for him to return safely home.

I look forward to persuading my husband to complete the trek with Peter in the near future.'