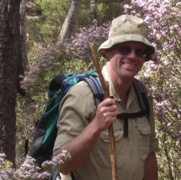 Peter served in the Army Reserve for 7 years and has two grandfathers who served in both World Wars - one being a highly decorated soldier.
As a result of his background, Peter has a passion for military history. He has been to Gallipoli twice and also the Western Front. He has recently graduated with a MPhil in Military History with the Australian Defence Force Academy. He is now studying for his PhD.

Peter continues to take part in expeditions with the Australian Army's Unrecovered War Casualties Unit, studying details of the Kokoda campaign in the Owens Stanleys and on the north coast of PNG.

Peter is qualified in Remote Area 1st Aid and holds a Senior 1st Aid Certificate.

He has completed 32 treks across the Kokoda Trail plus other exploratory expeditions into the Owen Stanleys. On one occasion he took a detour through the remote village of Madilogo off the track and was so struck by their poor situation that he later led a successful aid project back to the village to provide water to the Madilogo people. He has also raised $20,000 for another aid project to provide water to Kemabolo village on the south east coast of PNG, completed in November 2007. He has since constructed water supplies in another six PNG villages.
Peter's passion is to share the military history of our nation and to help build strong bonds with our PNG cousins.

Trekker feedback on Peter's treks . . .

'Peter provided everything that could be expected of a trek leader. He is a credit to your company and himself. He was very much liked by all, and the group was constantly commenting between themselves on what a great job he was doing . . .'

'I always felt safe. The battlesite briefings by Peter were informative and representative of the history. Peter was friendly to all trekkers and his association with the local land owners is impressive . . .'

'Peter earned great respect from the group with his willingness to help in anyway that he could, His accounts of the campaign history were excellent and the efforts of the diggers and the PNG people are well regarded by him . .'
'Peter was passionate about the track and the villages and provided interesting and informative commentary throughout the trek . . .'
'How to comment on Peter Davis – he is now a friend of mine!'
'Peter is a great guy with an enormous amount of knowledge about Kokoda .'
'Peter was very knowledgeable and a pleasure to be on the trek with . . .'