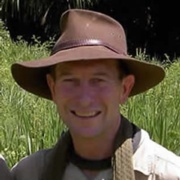 John Nalder
'Before John joined Adventure Kokoda he used to wrestle crocodiles with Steve Irwin'
John featured on the ABC Compass program when he led a group of young people across Kokoda as part of an ABC television documentary for Compass. Included in the group was a young bloke who burnt the Australian flag during the Cronulla riots - he is now a passionate advocate of Kokoda!

John grew up in north western Queensland before leaving the family sheep and cattle property and moving to the Brisbane area. He owned and operated his own businesses before moving into senior management positions within the tourism industry.
During this period he worked with Aussie icon Steve Irwin at what is now the Australia Zoo.

John is an experienced climber and bushman who became involved with the Queensland State Emergency Service in Vertical Rescues in association with the Energex Rescue Helicopter. From this work he became an instructor in both Vertical Rescue and Land search, instructing Police, Medical personnel, Helicopter Crew and State Emergency Service personnel in these areas.

John is a keen student of the Kokoda campaign and is an association member of the 2/14th Infantry Battalion - he has a special interest in going 'off the track' and exploring lost tracks and battle sites. John has also developed a close association with the Koiari people and has a keen interest in their traditional medicine.

John has been involved in leading young people sponsored by the RSL Services Clubs Association across the track as part of a Kokoda Challenge Leadership Program.
Trekker feedback on John's treks . . .
'John Nalder has a knowledge of wartime history and subsequent events that is outstanding. He was more than happy to share that knowledge and did so frequently. He is an outstanding trek leader . . .'

'John's commitment, enthusiasm and leadership were obvious and well supported by his knowledge and his relationships with the carriers and the village people . . .'

'John, with the Papuan people made this trek very special. John's passion for the track, military history, Papuan people, and future of all these things is amazing . . .'

'John is obviously a man who doesn't guide treks for money alone. He has a genuine passion for the track and a love for the locals. His knowledge of the Kokoda campaign and the way he tried to pass that knowledge on to us in such a short time was admirable. His stories brought a tear to my eye on several occasions . . .'

'Very knowledgable and good understanding of culture and history of the campaign . . '
Sergeant Mark Hudson, Royal Australian Infantry:
'John Nalder proved to be an excellent Trek leader with an incredible amount of knowledge of the history of the trek, those who fought and died there and of the locals. On a personal note, given my military background, I am very grateful for the opportunities John gave me to read copies of the orders given during the Australian withdrawal, the privilege to read aloud the speech Ralph Honner gave to his troops just before he was replaced as CO'.
Karen Pineo:
'Hi Charlie,

'I've just returned home from trekking with John Nalder on AK 1108.

'I wanted to drop you line to let you know what a wonderful, rewarding time I had on the trek. We did quite a bit of research before we booked, trying to find the most appropriate company to trek with. However, it wasn't until we were on the track that we realised what a great decision we'd made. Your commitment to the welfare of the local people and the respect and love they showed towards John was inspiring. After becoming friends with our wonderful carriers, it was heartbreaking to pass group after group of carriers from other companies forced to walk home, as well as hearing stories of overloaded packs and unpaid trek permits. However, I was continually impressed with more and more stories of your contribution to the villages on the track and the schools back in Port Moresby and Sogeri.

'John was a fantastic trek leader. His knowledge of the track, the local people and the military history was second to none and he made everything so easy to understand. And of course his enthusiasm was infectious. The trek itself was well organised, ran smoothly and with John, Jerry, Knoxy and all the carriers we always felt as though we were in great hands.

'Thank you for such an enjoyable, inspirational experience and I'm so pleased to know that by trekking with you, I have in some way helped those that welcomed us so warmly into their home.

'I'll definitely recommend Adventure Kokoda to anyone looking to make the trek.'
From Tom Misden . . .
'Dear Charlie,

'The main reasons for writing are firstly to compliment our leaders, John and Peter. Their leadership, management and absolute passion for the trail, the people and the history were simply outstanding. John's passion and his commitment to helping us share so much of Kokoda without doubt made our experience so much more valuable. And he seemed to have private time for everybody, an amazing man. And the emotion that surfaced because of John's delivery caught us by surprise, such was his passion for 'Kokoda'. Peter, although relatively 'new' also displays the great affection and relationship with the people, particularly the young, and commitment to the diggers. No doubt he is a great developing asset for Adventure Kokoda, in the mould of John.

'Secondly, now having compared notes with other trekkers, individually or with other companies, it is clear to us that Adventure Kokoda are very professional in all aspects leading up to the trek and then, critically, every aspect on the track is planned and managed. You and your whole organisation deserve every credit for what you do for trekkers, villages, schools and for the memory of our brave young Aussies who 'created' Kokoda. We have only just begun to live the spirit, thanks to Adventure Kokoda that will only grow.'
From James Peterson (Kokoda Youth Leadership Challenge) . . .
'John was very knowledgeable and passionate about the Kokoda track and its importance within Australian history. He was a great storyteller and had an incredible relationship with the local people and carriers. Fiona was supportive and helped out those who were struggling either mentally or physically throughout the entire trip.

'The Kokoda experience was absolutely incredible and has taught me so much. To begin with, it gave me a greater appreciation of the sacrifices which the Australian soldiers made to defend Australia and our freedom. Having walked the track and seen firsthand the famous battle sites of Isurava, Eora Creek, Templeton's Crossing, Brigade Hill and Imita Ridge, I now have a better understanding of what the soldiers endured. The terrain was brutal, with steep hills and thick jungle, the entire track. It blows my mind that they fought on such unforgiving terrain, with 35kg packs on, in the pouring rain, without shelter, little food and limited sleep. We did the track with nice trekking boots, 12 kg packs and a lovely tent to shelter us from the elements every night. It must have been absolute hell, living in constant fear and fighting in those conditions. My appreciation and gratitude for those bloody heroes has increased immensely. They are Australia's true heroes, and if it wasn't for them, we might not enjoy our present day freedom.

'Seeing and learning of their sacrifice has given me a new found sense of purpose. A desire to act and do, instead of planning or saying I'm going to do something. I feel that I owe it to them to take full advantage of the privileges and luxuries that I have been given, and live a life of joyful purpose. Ending the journey at Bomana war cemetery, only cemented this desire. I had a moment as I stood staring down at 1 of the marble white gravestones, where I looked up and was confronted by the sight of rows upon rows of graves stretching into the distance. For a moment I felt sick and had chills throughout my body, as the enormity of the sight sunk in. I had this vision of all the dead soldiers standing behind their gravestone, and it really moved me. So many young men made the ultimate sacrifice and lost their lives. Many of them were the same age as me, or even younger. I know that if they were given another chance to live, they wouldn't waste it, so the least I can do in their honor is to live a happy life and make others happy. Learning about the battle along the Kokoda Track and hearing a number of individual soldiers stories from John and then putting it all together by finishing at Bomana, has also left me with a strong desire to share the story of Kokoda. I am a custodian now, and I feel a sense of responsibility to keep the memory and legend of Kokoda alive. Following the trek, I have also been left with a deep seated curiosity to learn more about the Kokoda campaign and the places we visited.

'This experience has definitely left me better equipped to face the challenges of the future. Walking up the final hill to the finish of the track, under the beautiful arches, with the carriers forming a guard of honor, left me with an immense feeling of satisfaction. I couldn't wipe the grin of my face all day. I will definitely carry that feeling of accomplishment, the camaraderie of the group and the beautiful kind nature of the locals with me into the future. This experience, has once again confirmed for me, that if you can master and control your mind, then you can do wonderful things. In the future, especially during moments of stress or high pressure, I will focus on the task at hand, and ignore all outside distractions. I learnt this valuable lesson whilst completing a unique challenge set by John, in which we had to carry a pretend patient on a local stretcher. John gave me the role of leader, and it taught me the importance of calmly focusing on the job at hand, rather than being effected by outside factors. The whole challenge John was screaming at us to hurry up, and as a result I rushed the team and we made a number of mistakes. If I was ever placed in a similar stressful situation I would ignore the source of distraction, and focus all of my energies on the issue'.