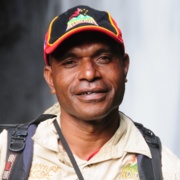 'Big Joe' as he is fondly known is the Chief PNG guide for Adventure Kokoda.
Big Joe has been trekking across the Kokoda Trail for almost 20 years and is fast approaching his 100th crossing.
He has earned the respect of his Koiari and Orokaiva counterparts during this period. He is a man of few words but there is no doubt about his authority along the trail. He is well-known and highly respected by all village elders and community leaders.
Big Joe was born at Sogeri and attended Sogeri Primary School. He is married to Agatha who is from Goilala. Agatha is the nurse at the Sogeri Health Centre.
Big Joe and Agatha have three sons - Alphonse, a student at the Sogeri National High School; Allen, a student at Iaowari High School;and Big Joe junior who is attending Sogeri Primary School.
Alphonse is also training to be a pilot in Australia during his school holidays and his flight to and from PNG are sponsored by Network Kokoda.