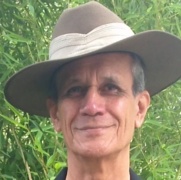 Over the past 34 years Captain Reg Yates has explored most of the WW11 battlesites in PNG. He is fluent in Tok Pisin and is well respected by village elders along the Kokoda Trail.
Reg first went to PNG on an army adventure training exercise in 1984 and over the next five years his groups trekked across the Kokoda Trail, the Bulldog-Wau Army Road; the Wau-Salamaua WW II tracks; walked from Kompiam, WHP to Eram on the Yuat River and boated to Tambanum village; crossed the Saruwaged Range of Peter Ryan's "Fear Drive My Feet"; and rafted down the Watut River.
During the period 1990 – 1998 he participated in numerous Australian Defence Force (ADF) 'study tours' where he explored Shaggy Ridge; the Hindenburg Wall section of Karius and Champion's 1928 crossing of the headwaters of the Fly and Sepik Rivers; Finschafen, Scarlet Beach and Sattelburg; paddled a dugout canoe on the Sepik River from Frieda River junction to Ambunti; boated through the Gulf of Papua delta from Hohola to Kikori; and at various times visited Daru Island in Torres Strait, Mendi and Tari, Mt Bosavi, Lake Kutubu, Mt Wilhelm, Kiunga, Lake Murray, Wewak and Mission Hill, Rabaul and Tol Plantation, Kavieng, Manus and Baluan Islands, and Milne Bay.
As a result of these experiences Reg was assigned to write a 'Guide to Adventurous Training in Papua New Guinea for ADF Personnel under the auspices of the Director General Army Training, with advice from the Surgeon General ADF and the Army Malaria Research Unit.
Reg enlisted in the Citizens Military Forces (CMF) in 1971 and was an Army Reserve Infantry Captain for 20 years from 1980 to 2001. During this time he was an observer on a UK mechanised battalion exercising in the Fulda Gap, Germany in 1977; a US armoured Brigade exercising at Fort Hood in 1980; a US Army Brigade exercising on Hawaii in 1982; and the ODF Brigade exercising at Shoalwater Bay in 1982.
As a civilian Reg worked for 36 years as a Qualified Ambulance Paramedic (QAP) with Ambulance Service Victoria, Melbourne during 1973 - 2009. He later completed three tours as Medic-Security on a cargo ship in Asian and Middle-Eastern waters during 2009-2010 and completed four tours as a Qualified Ambulance Paramedic on seismic sites in isolated areas of PNG during 2011-2013.
Reg has trekked Kokoda 65 times; Shaggy Ridge 8 times; Wau-Salamaua 6 times; the Bulldog-Wau Army Road 3 times; Rabaul-Tol Plantation 5 times; visited Finschafen-Sattelberg-Scarlet Beach 3 times; Milne Bay once; and this year he climbed Mt Victoria; revisited "Fear Drive My Feet"; and visited Bougainville for the first time. On Bougainville he visited Porton Plantation, Torokina, Slater's Knoll, Buin and Buka (with a PNG Tourism official), and the abandoned Panguna mine.