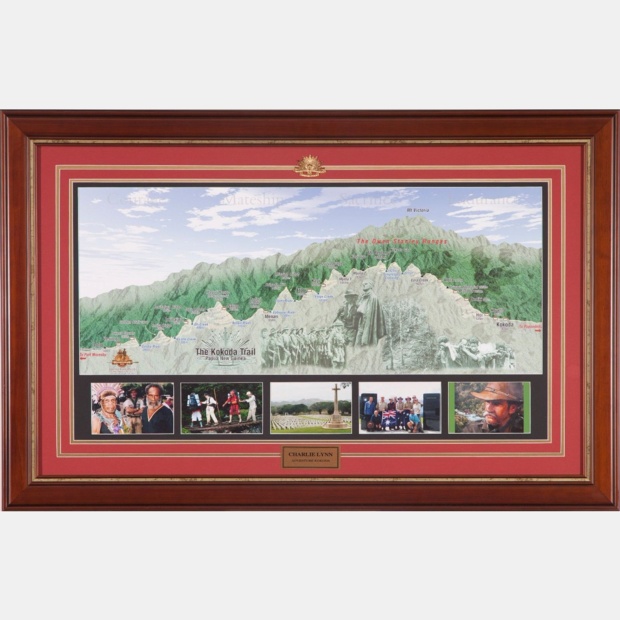 Kokoda Trail Wall Map
The Kokoda Trail Wall Map was compiled by Major Charlie Lynn OAM OL with data collected during his treks across Kokoda. It includes data from wartime sketches in the Australian War Memorial, official Australian Army Survey Maps, the PNG National Mapping Bureau and satellite images. Indigenous names of mountains and rivers have been provided by clan leaders from along the track.
The words etched in the granite pillars of the Isurava Memorial: 'Courage, Mateship, Sacrifice, Endurance' are watermarked in the sky as a solemn reminder of the qualities of our diggers, and the PNG 'fuzzy-wuzzy angels', who saved Australia from invasion during the war in the Pacific in 1942.
Images depicting the famous parade of the 39th Battalion at Menari Village, 'Fuzzy Wuzzy Angels' assisting wounded diggers and the 'Golden Staircase' are embedded into the Owen Stanley Ranges between Owers Corner and Kokoda.
The map measures 850mm X 300mm.
The Kokoda Trail Special Edition Wall Map can be professionally framed with nameplate, Rising Sun badge, trek photographs, shoulder bars and replica medals.
---
AU $79.95
Shipping will be added during checkout after the address has been entered.
Please contact us for overseas delivery or bulk orders.
Approximate postage within Australia: $8.95 per item.