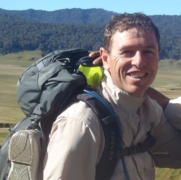 Rod is a current serving defence member who enlisted into the Australian Regular Army on the 2nd August 1994.
After recruit training he was allocated to the Royal Australian Artillery. Since then Rod has served in Artillery units at various locations around Australia and has worked extensively as a recruit instructor. Rod has also seen active service with the Australian Army Training Team in Iraq in 2005-2006 and in the Sinai during 2015-16 in the Multinational Forces and Observers team.
As a Bombardier, Rod was awarded the Centenary Medal for 'For service to the career development of subordinates'. Rod's professionalism, hard work and dedication to his duties earned him high regard from his superiors and the respect of his peers.
In 2019 Rod was awarded the highest commendation from the chief of army for the work he was involved with providing a pathway for indigenous recruits into the Australian army.
Rod first trekked Kokoda in 2009 with his wife Fiona for their 10th wedding anniversary, as a tribute to Fiona's Grandfather who served with the 3rd Militia Battalion on the trail.
Since his first trek Rod has been integral in training and trekking with school students from The Riverina Anglican College, in Wagga. Rod has a deep passion for preserving the history of Kokoda and for sharing this with the youth of today.
Rod is also a keen marathon and ultramarathon runner.